"DePauw Was a Great Experience," Mellencamp Collaborator Mike Wanchic '74 Tells Newspaper
December 6, 2006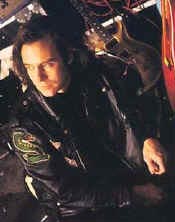 December 6, 2006, Greencastle, Ind. - "For me, DePauw was a great experience," musician Mike Wanchic tells the Banner-Graphic of Greencastle. "It allowed me to meet great musicians and grow musically. It was a good experience for me. Without DePauw, there would be no Mellencamp for me."
Wanchic, who has played guitar in John Mellencamp's band for 30 years and led the ensemble for much of that time, is a member of DePauw's Class of 1974. The newspaper previews the upcoming release of Mellencamp's Freedom's Road, to which Wanchic contributes, and notes his career's Greencastle roots.
"Although he's spent nearly his entire life as a musician, Wanchic came to DePauw University to play football," writes Jason Moon. "While at DePauw, he formed the Wakefield Summit,
[and later] formed Catch. The bands played Mr. Ron's, which is where the Putnam Inn is today. In addition, they played at Old Topper's and the Bainbridge Tap, among other venues."
Wanchic has co-produced Mellencamp records and discs by Blessid Union of Souls and Cowboy Mouth, among others. He owns Echo Park Studios in Bloomington.
Of Freedom's Road, Wanchic says, "I think it's the best record we've made in 15 years. It's a very roots-oriented rock record. There's a lot of atmosphere on it."
Read the complete story by clicking here, and learn more about Mike Wanchic in this previous article.
Back