Prof. Ken Bode Reflects on the Life and Legacy of "The Best Political Reporter Around"
December 8, 2006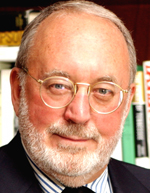 December 8, 2006, Greencastle, Ind. - Ken Bode, Eugene S. Pulliam Distinguished Visiting Professor of Journalism at DePauw University, reports on "a celebration of a very full life" that took place in Washington, D.C. this week. In today's Indianapolis Star, Bode writes of Tuesday's service at the Kennedy Center for the New York Times' R.W. Apple Jr. "Known as Johnny to the citizens of the trade, he covered wars, government, politics, elections and presidents and he did it better, faster and had more fun than just about anyone," Bode states.
"When told his reporting days were over, Johnny designed the service himself. No hymns, no prayers, just warm, funny war stories of Apple's adventures covering the news from 109 countries. Among the 13 eulogists was the Times executive editor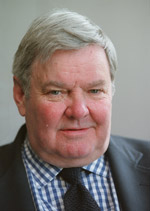 during part of the Apple era, Joe Lelyveld, who said, 'He got up earlier than most of his peers, considered his beat to be pretty much the whole world, and cultivated a sense of history that extended back further than the considerable history he had witnessed.' Lelyveld then added a compliment that was applauded by all in the assembly, 'In his prime it was fair to say he was the best political reporter around.'"
Bode, who covered politics for NBC, CNN and PBS, notes that "Apple is credited with being the first to recognize that a one-term Georgia governor, Jimmy Carter, really had a chance to win the Democratic nomination in 1976. Paying off a political wager that year, Apple took me to lunch at a little French bistro midway between our offices. Three courses and three bottles of wine later, Apple returned to work. I did not. It was then, I think, that I realized that Johnny Apple was wired differently than most of us, a different DNA."
The column continues, "When he became bored with covering only wars and politics, Apple re-invented himself, becoming a globetrotting food and
wine reporter, traveling with his wife, Betsey... Apple's last article for the newspaper, published just after he died, was a review of 10 restaurants he considered it worth getting on a plane for. They spanned the world, and Apple made it clear that he'd attended all and that the exchequers at the Times could prove it."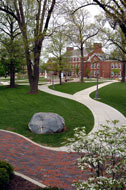 In conclusion, Bode writes, "As if to demonstrate that one's influence endures after death, 40 of Apple's close friends from Washington's best restaurants and America's best vineyards organized an elegant buffet in his honor for the guests at the Kennedy Center. What a way to go out! By the way, they're replaying it all on C-SPAN."
Read the complete essay at College News.org.
Last Friday, Ken Bode wrote of the leaked document that affected President Bush's summit with Iraqi Prime Minister Nouri Kamal al-Maliki. Access that column here.
Source: Indianapolis Star
Back