Iraq Study Group's Lee Hamilton '52 and Vernon Jordan '57 Continue to Make Headlines
December 10, 2006
December 10, 2006, Greencastle, Ind. - Two of the ten members of the Iraq Study Group continue to dominate headlines, four days after the panel issued its recommendations to President Bush. The co-chair of the Study Group, Lee H. Hamilton '52, appears on the cover of the new (December 11) issue of Newsweek magazine, along with fellow chair James Baker. Access the lead story, "So Now What, Mr. President?," by clicking here.
Meanwhile, Vernon E. Jordan Jr., the 1957 DePauw graduate who was another of the Iraq Study Group's ten members, discussed the panel's work and the war in Iraq with National Public Radio. The report notes, "Jordan once headed the National Urban League and has advised American presidents for more than 40 years... but nothing could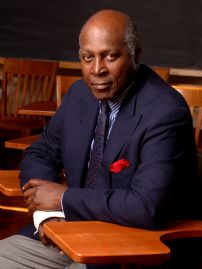 have prepared him for the gravity of this latest assignment."
Jordan tells NPR, "We are five Democrats and five Republicans, all of whom checked our partisanship at the door... I never doubted that we could reach the consensus that we reached."
Jordan says Bush "has given this Iraq Study Group an unusual amount of time and attention... I think he understands his responsibility; he understands our responsibility... He very rightly said, 'I want to read this and I want to come back to you."
The author of Vernon Can Read! adds, "When you've got a problem, you have to deal with it you have to talk to everybody. All of these people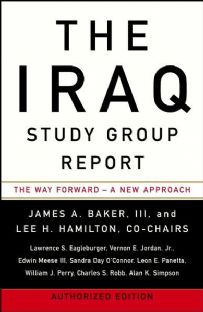 who are railing against us [for recommending that we begin] talking to Iran and Syria. You know, it reminds me of being in the South in the 1960s -- we talked to the sheriffs and police chiefs who were beating us, who were arresting us, who were harassing us, and who were shooting us -- we talked to them and they were not our friends. But we had to talk to them to make them understand what it is that we were about and there was a negotiation that took place, sometimes successfully, but sometimes not so successful. But nothing happens if you don't talk," Jordan asserts.
Speaking from Washington, the civil rights legend and attorney reports that the bipartisan panel had no outbursts or unruly arguments as it deliberated what to recommend for Iraq. "This town has been strife with polarization and hostility in our politics. I hope that this administration and the Congress can take a page out of the Iraq Study Group's process, and that page is civility."
Access the audio report, which is more than eleven minutes long, by clicking here.
Back