James B. Stewart '73 Writes of His Late Father's 'Common Sense' Approach to Life and Investing
December 9, 2006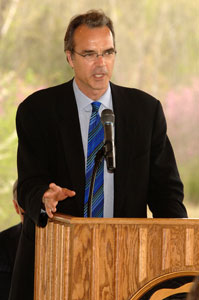 December 9, 2006, Greencastle, Ind. - James B. Stewart, the Pulitzer Prize-winning journalist and 1973 graduate of DePauw University, offers a tribute to his father and investment advice to his Wall Street Journal and SmartMoneyreaders. "When it came to investing, my father recognized that conventional wisdom was often right, but not always. Since conventional wisdom was already reflected in stock prices, a contrarian view -- if correct, of course -- was a big profit opportunity. He was undaunted if he felt he was right and the market moved against him. This philosophy was the subject of the very first 'Common Sense' column I wrote back in 2000."
Stewart, author of books including DisneyWar and Den of Thievesand chair of DePauw's Board of Trustees, describes how his father cultivated an interest in financial markets. "Only recently have I realized that many of the philosophical underpinnings of this column come from my father," writes Stewart, who offers a few rules that his father lived by, and which guided his investment decisions. They include: "Enjoy what you do," "be an optimist" and "don't follow the herd."
The column concludes, "My father died in November at the age of 80. You may wonder why I'm writing this column so soon after his death. As I said, my father loved his work. He was on his way to his office at television station KHQA in Quincy, Ill., when he had to go to the hospital instead. Even when he was discharged to a nursing home and hospice care, he asked for a cellphone to finish a national ad sale. My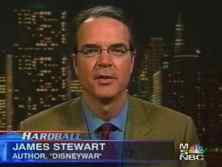 father was proud of me and this column, which my mother read aloud to him in recent years after his eyesight failed. I know he'd want me to keep writing. Indeed, he'd expect it. That's another quality for which I have my father to thank."
Read the complete text by clicking here.
Jim Stewart was recently named the national 'Delta Chi of the Year.' Learn more in this previous story.
Back