President Bottoms Tells TV Program of Initiatives to Make the DePauw Experience More Global
December 11, 2006
December 11, 2006, Greencastle, Ind. -

[Download Video: "Dr. Bottoms on Inside Indiana Business" - 3508kb] "DePauw University is continuing to take on a more global focus," said Inside Indiana Business host Gerry Dick as he introduced a segment of this weekend's statewide program. He added that his guest, DePauw President Robert G. Bottoms, worked "closely with the business sector on a trip to India which is now paying dividends." Dr. Bottoms last appeared on the program in March shortly after returning from India.
"We've really begun to develop two programs," Bottoms told the show, which airs on 13 television stations. "We had Anant Talaulicar, who is the chairman of Cummins India, on our campus last summer. He met some of the Indian students at DePauw, he wanted to know what life in Greencastle is like, what life in Indiana is like." Bottoms says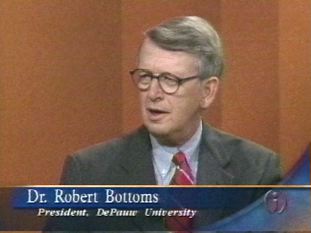 although Talaulicar received his college education in America, his DePauw visit was his first experience "on a liberal arts campus like ours."
Bottoms says the Cummins leader "was really taken" with DePauw, and "left thinking that, yes, he would like for some of the children of his employees to come to DePauw. So we've worked out a program between Cummins and DePauw where we would take up to 50 international students a year, primarily from India, to come to DePauw." After graduation, the students would have the opportunity to work for Cummins, either in the United States or India.
The other program will send 10 to 12 DePauw students in the Management Fellows and Information Technology Associates programs to India, where they will intern with Cummins.

[Download Video: "More From the Program" - 1718kb] "So what we're trying to do is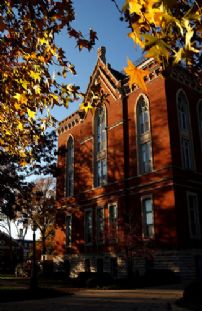 establish in our small community an international presence of four-year students from India at DePauw in a regular, degree-seeking program, (send) some of our students to India every year, and create the kind of synergy so that undergraduate students at a liberal arts college really get to know, to understand, other cultures and to gain a certain comfort level for the kind of world they're going to live in," Bottoms said.
The president noted that several recent graduates of DePauw, who are natives of India, now work at Aviation Core Matrix, a high tech Greencastle company that the University helped launch. As DePauw brings even more international students to its campus,

[Download Video: "Segment #3" - 2733kb] "They've been very happy. We'll see over the period of a decade how many of the Indian students would like to stay in this country, stay in Indiana and work," says Dr. Bottoms.
"Our goal over a four year period of time is to be able to recruit 50 international students a year as regular students at DePauw, not simply exchange students," Bottoms told the program. "That would give us a core -- critical mass, if you please -- of 200 students in a student body of 2,300." The president also envisions "more of our students studying off campus. We have a goal of 75% of our students studying overseas. It would give a flavor to the liberal arts atmosphere of really gaining a global understanding and being able to interact with people... We think it'll be a way to better equip our traditionally trained students to live in the world where they will work."
Multicultural students now comprise 17% of DePauw's enrollment,

[Download Video: "Final Clip" - 1044kb] "That's the highest it's been in our history, and if we're successful in this initiative we'll be well above 20%," Bottoms says.
Visit Inside Indiana Business online by clicking here.
Cummins CEO Tim Solso is a 1969 graduate of DePauw University and has been instrumental in creating the new programs Dr. Bottoms discussed. A member of DePauw's Board of Trustees, Mr. Solso and his wife, Denise Manning Solso ('69), provided a gift to the University that created an approximately 3800-square foot laboratory building, Manning Environmental Field Station, within the 520-acre DePauw University Nature Park. Read more in this previous story.
Source: Inside Indiana Business
Back