Indiana Governor Praises His "Proven, Talented" New BMV Chief, Ron Stiver '96
December 12, 2006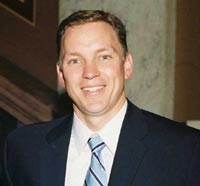 December 12, 2006, Greencastle, Ind. - "He's just a great listener and a proven, talented business executive," says Indiana Governor Mitch Daniels of the man he recently appointed commissioner of the Indiana Bureau of Motor Vehicles, Ron Stiver '96. "He is very customer-oriented," adds Daniels in a story published in the Louisville Courier-Journal.
The article begins by noting, "Stiver first met Gov. Mitch Daniels at the Eli Lilly & Co. corporate gym years ago. Daniels, a company vice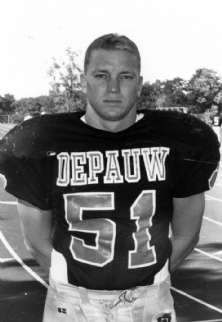 president at the time, was doing his daily run on the treadmill. Stiver, a relatively recent college grad, had seen him there before. One day, they struck up a conversation and eventually a friendship, which has evolved into a new career of public service for Stiver," writes the Courier-Journal's Lesley Stedman Weidenbener. "[He] is an Indianapolis native who played center for the football team at DePauw University in Greencastle, where he majored in economics. He went to work for Lilly after graduation, then left to earn a master's degree in business at Duke University before returning to Lilly where he became manager of the company's U.S. osteoporosis strategy."
Stiver previously headed Indiana's Department of Workforce Development. "He cleaned up the long-standing problem of long waits for unemployment," says Gov. Daniels. "He reorganized and revamped workforce-development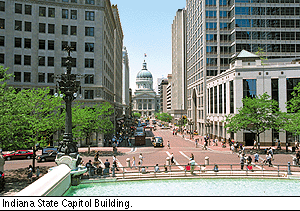 programs in a way I'm getting rave reviews all over the state. He got dollars and decision-making out to the local workforce development, reduced the size of internal bureaucracy."
Of the BMV, the new chief says, "I won't be satisfied until everything is working the way it should. We want to be the best." Stiver adds, "We want to transform the branch experience. We just want to do a good job serving our customers."
Read the complete text at the newspaper's Web site. Learn more about Ron Stiver in this previous story.
Back