Mary Meeker '81 Cited in Story Examining How Internet is Changing Video Distribution
December 15, 2006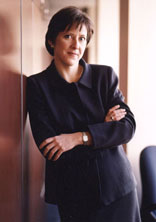 December 15, 2006, Greencastle, Ind. - "At the recent Web 2.0 summit in San Francisco, Mary Meeker, an Internet analyst at the investment bank Morgan Stanley, defined three different categories of video content on the Internet: amateur, semi-professional and professional," writes Scott Kirsner in an article that was syndicated to newspapers across the nation. Meeker, a 1981 graduate of DePauw University, "said she would expect that viewers might divide their attention equally between those three categories. An example of semi-professional content might be a series of yoga videos made by a local studio, or a low-budget feature film that is well-made, but was never shown in theaters."
Kirsner's story examines the impact that Web sites such as YouTube are having on the way video content is watched and distributed. Such venues "simplify the process of editing and uploading video, making it globally accessible. Suddenly, anyone can become a broadcaster for free -- and no FCC license is required."
Read the complete text at the Bradenton Herald.
Video clips of a presentation Mary Meeker, managing director of Morgan Stanley, made at her alma mater in 2001 can be found by clicking here.
Back