Richard Gwyn Davies '63 Authors Swords at Culver
December 17, 2006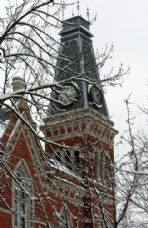 December 17, 2006, Greencastle, Ind. - Richard Gwyn Davies, a teacher at Culver Military Academy and 1963 graduate of DePauw University, has published Swords at Culver. "The cornfields of Northern Indiana seem a somewhat unusual setting for a story about two boys embarking on an epic adventure involving the Bronze Age blade used by King David and Excalibur, the sword belonging to King Arthur. But that's exactly where Richard Gwyn Davies, who teaches humanities, myth, literature and popular culture at Culver Military Academy in Culver, Ind., set his book," notes a story on the new book in the Times of Northwest Indiana.
"I have a fascination with how mythological systems can be imposed upon us," Davies tells the newspaper. "I wanted to pull together Native American lore and Arthurian legend with another strand -- that of King David. It was fun doing all the research."
Jane Ammeson writes, "Davies, who grew up on a farm in Northern Indiana near Valparaiso, graduated from Valparaiso High School in 1959 before earning his undergraduate degree from DePauw University. After a stint in the Peace Corps, Davies taught at Culver and then earned his Master's at the University of Wales, Aberystwyth. The son
of a Welshman (he credits his father with encouraging his imagination by reading stories to him when he was young), he taught in south Wales and spent two years at Oxford before returning to Culver in 1974. He's also earned his Ph.D. from Indiana University."
Read the complete article by clicking here.
Back