Monon Bell DVD is In the Mail
December 15, 2006
Order Your Monon Bell DVD Here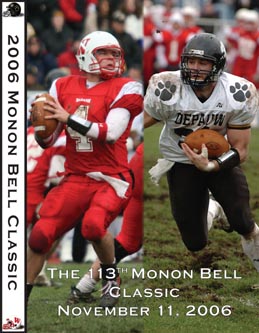 December 15, 2006, Greencastle, Ind. - The commemorative DVDs of the 2006 Monon Bell Classic -- fresh from the manufacturing plant -- have arrived on the DePauw University campus and are going out this afternoon via the U.S. Postal Service. The discs should arrive in time for holiday gift-giving.

[Download Video: "2006 Monon Memory" - 8811kb]
In addition to the entire game, which was televised nationally on HDNet and is anamorphically enhanced for widescreen (16x9) televisions, the DVD includes 19 "Monon Memories," The Ballad of the Monon Bell music video, an extensive photo gallery, and the halftime messages from both institutions. The platter was again a collaboration between the two schools, with DePauw's Ken Owen '82 mastering the disc and Matt Bowen providing the menus and photos. Wabash's Jim Amidon created art for the packaging and contributed additional images.

[Download Video: "1932 Monon Memory" - 3518kb]
The DVD is available for $15 (plus $3 shipping; Indiana residents will also be charged 6% sales tax). An order form, which you can submit online or print and mail in, can be accessed by clicking here.

[Download Audio: "Hear The Ballad of the Monon Bell" 2900kb]
The Monon Memories included on the 2006 DVD are from 1932, 1939, 1942, 1955, 1959, 1964, 1970, 1973, 1974, 1977, 1978, 1980, 1981, 1989, 1994, 1998, 1999, 2001, and 2005. Several are making their first-ever appearance on disc. This marks the sixth Monon Bell DVD that has been produced. Other Monon Memories appear on previous platters, which remain available here.
For comprehensive information on the 113-game rivalry between DePauw and Wabash College, visit DePauw's Monon Bell Web page.
Back