Dustin Hertel Leads Defensive Effort as USA Wins Aztec Bowl, 28-7
December 17, 2006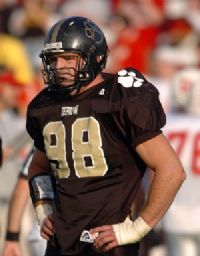 December 17, 2006, Aguascalientes, Mexico - DePauw University senior Dustin Hertel paced the United States' all-star team with nine total tackles, including two solos, as Team USA defeated Mexico's all-stars, 28-7, in Saturday's Aztec Bowl. Hertel, a defensive end, led the team with three tackles for 17 yards in losses including two sacks for 17 yards and also forced a fumble in the victory.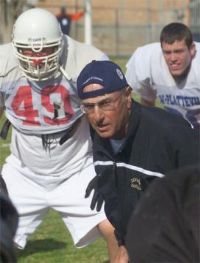 The American team's defensive unit allowed only 150 yards in the game.
Nick Mourouzis, who retired as DePauw University's head football coach at the end of the conclusion of the 2003 season, served as an assistant coach at the Aztec Bowl for a second consecutive year. (photo at right shows "Coach Nick" at work with the US team)
For more information, click here.
Yesterday, Hertel was also selected to the D3football.com all-America honorable mention team. Recently, he was named the Southern Collegiate Athletic Conference Defensive Player of the Year. Read more here.
Back