Prof. Meryl Altman Analyzes 'Sappho's Lost Session' in Women's Review of Books
December 20, 2006

December 20, 2006, Greencastle, Ind. - A recently discovered work by the ancient Greek poet Sappho "seems destined to provide delight and provoke debate, for experts and others, including among feminists, for many years to come," writes Meryl Altman in Women's Review of Books. Altman, professor of English and faculty development coordinator at DePauw University, contributes an essay to the journal's November/December issue entitled "Sappho's Lost Session."
"In fact the poem is not entirely new," Dr. Altman writes. "The recently deciphered papyrus overlaps significantly with what has been called Sappho 58, already known from a papyrus two Oxford undergraduates dug out of a rubbish trench at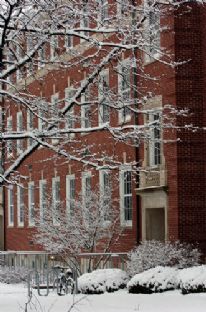 Oxyrhynchus in the 1920s (and which dates to a later period in antiquity). Also, the 'new Sappho' is not quite 100 percent Sappho, because the beginnings of the first four lines (of the original twelve) are missing." She notes that Martin L. West, an emeritus fellow of All Souls College Oxford who announced the discovery of the text in 2005, "has filled these in by erudite 'conjecture,' and competing erudite conjectures are beginning to appear. But it is still a very significant find," Altman states.
"Certainly the use of Sappho over the ages to support various strange agendas might make one hang back, or at least side with Barbara Johnson, who in 2003 tried to conceive of Sappho's texts as coming from an absence, from no point of origin," asserts Prof. Altman. "My own hope is different. The tools of philology, used with humility and restraint, can lead us to see Sappho's legacy as an intriguing puzzle, a mystery for which we hold, after all, some real clues, rather
than as a blank space. The paradoxes with which we are left may indeed be signs of her art."
Access the complete essay at Women's Review of Books' Web site.
A fuller and more scholarly version of this discussion, including footnotes, can be found by clicking here.
Meryl Altman was the inaugural recipient of the Jim Hinkle Memorial Prize, which is presented by the Faulkner Journal. Read more in this previous story.
Back