Bestselling Author John Jakes '53 Helps Spread Holiday Cheer
December 17, 2006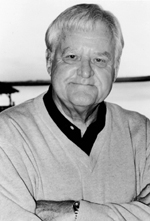 December 17, 2006, Greencastle, Ind. - A South Carolina resident "was amused to see superstar author John Jakes ringing a Salvation Army bell outside a Hilton Head Island supermarket," notes a column in the Island Packet. "You'd think he'd be out hawking his new book, The Gods of Newport, not standing by a red kettle helping the Hilton Head Rotary Club aid the needy," writes the newspaper's David Lauderdale.
Jakes, author of sixteen consecutive New York Times bestsellers, acknowledges, "Yes, I did ring the bell for the Salvation Army at Harris Teeter (at Main Street) with my fellow Rotarian Bob Sullivan. As an old scarred advertising hand, I think the Salvation Army's TV commercial

this year -- an Army lady ringing her mournful bell beside a homeless man, or on the roof of a flooded-out house, etc. -- is a knockout. Simple but powerful."
Access the item online by clicking here. Learn more about John Jakes, a 1953 graduate of DePauw University, in this previous story.
Back