Katie Couric's CBS Broadcast Needs Less Personality, More News: Prof. Jeff McCall '76
December 18, 2006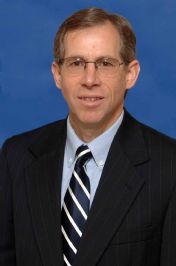 December 18, 2006, Greencastle, Ind. - As CBS considers the lackluster ratings for its Evening News program, "One thing is sure -- they shouldn't blame Katie," opines Jeffrey M. McCall. Writing in today's Indianapolis Star, McCall, professor of communication at DePauw University, states, "Couric is delivering just what CBS management thought it wanted -- a personality in a news anchor chair. The show is all about Katie. CBS expects her to be all things in every show: deadly serious and somber at times, and smiley (dare we say 'perky?') at others. She's a news reader one moment and an interviewer the next, complete with double-fisted hand gestures."
Dr. McCall, a 1976 graduate of DePauw, adds, "CBS' problem is that the viewers of early evening news are more interested in news than personalities. Sure, the likeability of the anchor is important, but if personality alone made a news show, Regis and Kelly would be news anchors."
The professor notes that the network is now "tweaking" the broadcast, which has
featured the $15 million-a-year Couric since September and is third among the "big three" network newscasts. "The broadcast's approach sounds journalistic at times, but often strays into strained hype and personality," says McCall. "The term 'exclusive' shows up in many newscasts. Couric introduced one story saying, 'I really think this next story is going to knock your socks off,' and wrapped up another with, 'I just love that story'... Couric recently began a new interview segment for her newscast, harking back to CBS' legendary Edward R. Murrow and even using the 'Person to Person' label Murrow used for his program. The historians at CBS must have forgotten to tell Couric that Murrow's Person to Person was designed as an entertainment show for prime time, and that Murrow was roundly criticized then for selling out his journalistic reputation to lob softball celebrity interview questions."
McCall concludes, "Couric is a talented and capable broadcaster who surely has the potential to turn her ratings fortunes around.
To do that, she will need to redefine herself from personality to broadcast journalist. CBS will have to provide a solid news program that Couric anchors, rather than hoping for viewers to tune in to watch Katie the personality, who just happens to have some news for us."
Access the complete op-ed at College News.org.
Jeff McCall is a frequently quoted expert on media matters and has been cited recently in Multichannel News, the Dallas Morning News, the Christian Science Monitor, and Inside Higher Ed and has appeared six times on FOX News' O'Reilly Factor.
Read about his most recent op-ed, on an award presented to Viacom's Sumner Redstone, in this previous article.
Back