"US Approach Must Be Changed" in Iraq, Asserts Study Group Co-Chair Lee Hamilton '52
December 19, 2006
December 19, 2006, Greencastle, Ind. - "The immediate impact of our work has been to shift the terms of the debate," writes the co-chair of the Iraq Study Group, Lee Hamilton. In an Indianapolis Star op-ed, the 1952 DePauw University graduate states, "Our unanimity has introduced some hope that a bipartisan consensus can be forged. Our grim assessment has formed a baseline of agreement on the facts, and made it clear that the current U.S. approach must be changed."
The Iraq Study Group, which also included Vernon Jordan '57 among its ten members, issued a series of recommendations on December 6. "Our report has prompted a flood of commentary and added to the White House's urgency to develop a new way forward,"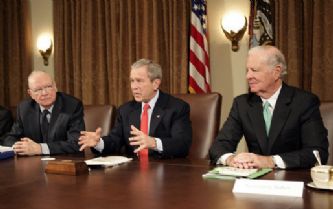 writes Hamilton. "The Joint Chiefs are recommending a course of action that runs parallel to ours in important aspects. Perhaps most interesting has been the public reaction."
Citing a recent national poll that found a strong majority of Americans supporting the Iraq Study Group's key recommendations, Hamilton also notes that "the report is at the top of the bestseller list and has been downloaded hundreds of thousands of times. While the president and Congress take their time to weigh options, Americans are educating themselves and drawing their own conclusions."
A Democrat who served 34 years in Congress and has been recently
praised for his bipartisanhip and pragmatism by the New York Times and Chicago Tribune, among other publications, Hamilton states: "The people are rejecting a status quo where we lose brave Americans every day while the situation deteriorates. We did our best to outline a responsible and effective way to move forward and protect U.S. interests. Our report should not be the last word, but it is the only report coming out that is the product of extensive review and bipartisan unanimity. In the days to come, we will see what its lasting impact will be."
Access the complete essay at the Star's Web site.
Lee H. Hamilton was on the DePauw campus in October to discuss the Iraq war and other matters at DePauw Discourse 2006: Issues for America. Access a story -- including video and audio clips -- here.
Back