Before Leaving for Central European Tour, DePauw Percusssion Ensemble Performs Here January 3
December 27, 2006
December 27, 2006, Greencastle, Ind. - Before the DePauw Percussion Ensemble embarks on a European tour, you're invited to preview the performances at a send-off concert on campus next Wednesday, January 3. The program, which begins at 6 p.m. in Kresge Auditorium of the Performing Arts Center, is free and open to the public. Audience members will be seated on the stage, providing a close-up perspective of the huge array of traditional and unusual percussion instruments that will be used.
The following day, January 4, the ensemble departs for a 23-day tour of five central European countries -- Slovenia, Austria, Croatia, the Czech Republic and Germany -- where the student musicians will present concerts and participate in workshops and master classes. The ensemble's director, Amy Lynn Barber, was a resident of central Europe for 12 years and has arranged the visits through former musical colleagues and friends.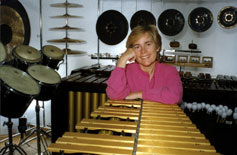 "It's a huge logistical challenge to travel with a percussion ensemble," says Barber. "One look at our stage full of large instruments will tell you why! We've had to make arrangements to borrow all of these instruments at each destination, since we'll be traveling with only a couple of cases of our smaller instruments and mallets."
The professor notes, "It is a great joy for me to be able to bring my students to some of my favorite places. They have worked intensely all semester and are well-prepared to present first-rate performances. I know I am going to be immensely proud of them."
When asked what her favorite destination on the itinerary is, Barber replied, "We'll be playing
in beautiful and historic cities like Ljubljana, Vienna, Zagreb, and Nuremberg, but Prague is surely my favorite -- it' s a kind of spiritual home for me. I was professor at the Prague Conservatory for 6 years, performed so many times in all the Prague concert venues, and have so many wonderful friends there. It will also be our most glamorous concert -- in the beautiful rococo hall of the Lichtenstein Palace. They are pulling out all the stops for us and this will be the high point for me."
The centerpiece of the DePauw Percussion Ensemble's trip will be the group's participation in the International Percussion Ensemble Week in Bjelovar, Croatia, where the DePauw students were invited to represent the United States with a program of American music. The ensemble will play works by American composers Christopher Rouse, John Cage,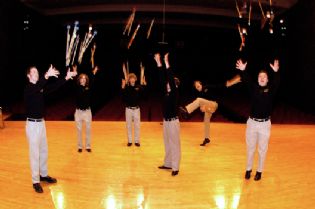 Jennifer Higdon, Joan Tower, and Charlie Parker.
Dr. Barber says the program that European audiences will hear, and which will be previewed on campus, represents a cross-section of American styles for percussion ensemble. The oldest piece on the program, Third Construction, written by John Cage in 1941, has already become a classic of the percussion ensemble repertoire. It calls for such unusual sounds as tin cans, log drums, pod rattles, and even a conch shell. The newest piece, composed in 2006, is a work entitled Splendid Wood by the very successful young composer Jennifer Higdon, for six players who share three marimbas in a display of rapid passagework and sonorous chords. The performances will also include Christopher Rouse' s Ogoun Badagris, an evocation of voodoo rituals; Joan Tower' s DN
A; and an arrangement of a classic bebop tune, Billie's Bounce, by jazz great Charlie Parker.
In addition to the thrill her students will get from playing before audiences in cities with long and rich histories, Barber also hopes they come away from the experience with a deeper understanding of central Europe's culture and its important place in history. "In music, as in all the arts, the blending of German, Slavic, Jewish, and Turkish elements created a rich culture and history in this region. I want my students to experience this first hand, " the professor states.
Visit the DePauw University School of Music online by clicking here.
Back