Bret Cornn '92 is Indiana 'Physician Assistant of the Year'
December 31, 2006
December 31, 2006, Greencastle, Ind. - Bret A. Cornn, a 1992 graduate of DePauw University, has been named Physician Assistant of the Year by the Indiana Academy of Physician Assistants. Cornn was nominated and selected by the board of directors.
An article in Indiana's Greensburg Daily News notes that Cornn "received his undergraduate degree from DePauw University in 1992 and graduated with a masters in medical science from the allied health division of Emory University School of Medicine in Atlanta, Georgia in 1997. Originally from Greensburg, Indiana, Cornn has been in family medicine with Jackson Park Physicians in Seymour since 1998."
The newspaper also reports, "The award honors a physician assistant who demonstrates exemplary service to the profession and the community and has furthered the image of physician assistants. Cornn has served the state academy as secretary, vice-president,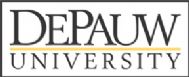 president, chairperson of the physician relations committee, and is currently serving as co-chairman of the legislative affairs committee."
Read the complete story at the Daily News' Web site.
Back