Hugh Hawkins '50 Authors Railwayman's Son
January 2, 2007
January 2, 2007, Greencastle, Ind. - Hugh D. Hawkins, professor emeritus of history and American studies at Amherst College and 1950 graduate of DePauw University, has authored Railwayman's Son: A Plains Family Memoir. The book is published by Texas Tech University Press.
A synopsis of the text states: "Hugh Hawkins was seven years old when his father's job with the Rock Island Railroad forced his family to relocate to far western Kansas. Before he turned twelve the family had lived in three 'Rock Island towns': Herington, Kansas; Goodland, Kansas; and finally El Reno, Oklahoma. Such was the life of a railwayman's son during the Great Depression. Inthis warm and thoughtful memoir, Hawkins paints a portrait of a middle-class family's traditions and values in the heartland of the 1930s and 1940s."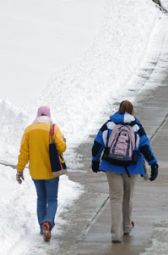 "Hawkins combines the skills of an accomplished historian with the sensitivities of a novelist to construct an engaging and poignant memoir of a Midwestern childhood in the 1930s and the first half of the 1940s," opines N. Ray Hiner, professor of history at the University of Kansas. "Through his memories and reflections, the author provides an intimate view of his family and a fresh perspective on the powerful forces that shaped the lives of Americans during these tumultuous times."
Read more about the book at Barnes & Noble.com and Amazon.com.
Back