Fifth-ranked Tigers win Surf N' Slam title
December 30, 2006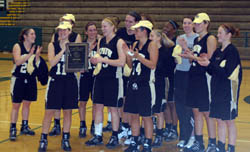 December 30, 2006, San Diego, Calif. - Fifth-ranked DePauw improved to 11-1 and captured the San Diego Surf N' Slam title following a 67-57 win over host and NAIA's 15th-ranked Point Loma Nazarene. The Sea Lions dropped to 8-3 with the loss, while the Tigers picked up their 10th straight win.
DePauw closed the first half with an 8-2 run on the way to a 31-24 halftime advantage. The Tigers extended the lead to as many as 10 early in the second half, but the Sea Lions battled back to take a 50-49 advantage with just over five minutes left.
The Tigers, however, broke a 55-55 tie with seven straight points on a jumper and three from Caitlin McGonigal and a bucket by Liz Bondi with 1:55 remaining. DePauw hit five of six free throws down the stretch to preserve the win.
Bondi, the tournament's most valuable player, paced the Tigers with 19 points, while all-tournament team representative Cassie Pruzin added 15. Bridget Bailey added 10 points in the win and led the Tigers with six rebounds. Suzy Doughty dished out five assists and recorded three steals.
Kerra Sutton-Wodarski paced the Sea Lions with 16 points and six rebounds, while Erica Dotson added 12 points.
The Tigers shot just 38.9 percent from the floor, but had a convincing 43-24 advantage on the boards.
DePauw returns to action on Friday, January 5, when it travels to Sewanee.
Back