New Restrictions on Political Lobbyists Needed, Declares Lee Hamilton '52
January 1, 2007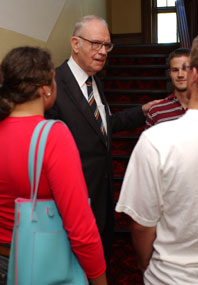 January 1, 2007, Greencastle, Ind. - "Banning all gifts, meals and travel paid for by lobbyists is a key first step" to restoring public confidence in elected officials, Lee H. Hamilton tells the Patriot-News of Harrisburg, Pennsylvania. A member of Congress for 34 years and the co-chair of the Iraq Study Group, Hamilton -- a 1952 graduate of DePauw University -- is cited in an editorial published today.
The newspaper notes that Hamilton's call for the elimination of perks "is drawing complaints that it will be a bummer for Washington restaurants and watering holes, as well as the corporate-sponsored parties that are a feature of political conventions. Hamilton suggests a number of other ways to put distance between representatives and professional lobbyists, and urges increased scrutiny on 'earmarks,' taxpayer-paid goodies for local districts that have become a scandal in their own right."
The editorial states, "In Washington,
Democrats are coming back into power in the House and Senate with a sense of purpose after spending 12 years in the political wilderness... Speaker of the House-designate Nancy Pelosi, D-Calif., has promised that 'the 110th Congress will be the most honest, most open and most ethical Congress in history.' It isn't entirely clear how far the new speaker will be able to persuade her fellow Democrats to go in giving up what many lawmakers of both parties consider to be part of the perks of office, but former Indiana Democratic Rep. Lee Hamilton says people want to see action, not promises, and they want to see it fast."
Read the complete column at the newspaper's Web site.
Lee Hamilton was one of 2006's biggest newsmakers and appeared on the cover of the December 11 issue of Newsweek (along with Iraq Study Group co-chair James Baker). Access another recent story by clicking here.
Back