Columnist Writes of "International Renown" of Percy Julian '20 in Preview of Upcoming NOVA Special
January 5, 2007
Visit Special Percy Julian Web Page
January 5, 2007, Greencastle, Ind. - "Percy Julian was fiercely dedicated, believed in himself, and was determined to succeed," writes Sandra Johnson in the Austin Weekly News, which serves Chicago's Austin neighborhood. Dr. Julian, a 1920 graduate of DePauw University who lived in Oak Park, Illinois for many years "became an American research chemist of international renown, but his achievement didn't come easily. He fought racism in his academic, civic and private life."
Johnson's column details Percy Lavon Julian's contributions to science and his struggles with racial intolerance (including the firebombing of his family's Oak Park home). It previews the national television premiere of "Forgotten Genius," a two-hour NOVA documentary which will air on PBS February 6. The program features interviews with several of Dr. Julian's former DePauw colleagues, including Donald "Jack" Cook, professor emeritus of chemistry.
Johnson states that Percy Julian was "always being at the top or among the top students in his graduating class. First, in 1920, he received a bachelor's degree from DePauw University in Indiana at the head of his class, honored as Phi Beta Kappa orator and valedictorian. In 1923, he earned his master's degree from Harvard University, again in the top group of his class. According to Paul de Knuif in a 1946 article in Reader's Digest, 'Julian waited on tables, took care of the furnaces, and made chemistry experiments far into the night.' In 1929, Julian was accepted into the doctoral program at the University of Vienna against stiff international competition for one of the few openings available. In 1931, he was awarded a Ph.D. in organic chemistry at the University of Vienna in Austria.
Percy Julian's research led to the development of a low cost method of producing cortisone, as well as a synthethic drug for the treatment of glaucoma, and a fire-fighting foam that saved thousands of lives during World War II. Through his work, Johnson asserts, "Julian made a number of medical treatments affordable to all people."
Access the column, which carries the headline "Percy Julian: The man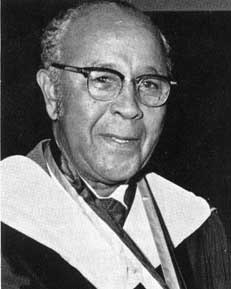 who overcame unbeatable odds," at the newspaper's Web site.
Learn more about "Forgotten Genius," which is expected to be seen by more than 6 million viewers, in this previous article.
Percy Julian received an honorary degree from DePauw, and in 1972 the University presented the scientist with the inaugural McNaughton Medal for Public Service. He also served his alma mater as a member of DePauw's Board of Trustees.
To view an extended clip of the PBS program and to learn more about Dr. Julian's DePauw experiences through text, photos, audio and video, visit this special Web page which has been created to coincide with the NOVA documentary.
Back