Isley Brothers, Booker T. & the MGs and a Young Jimi Hendrix Perform at Bowman Gym
October 9, 1965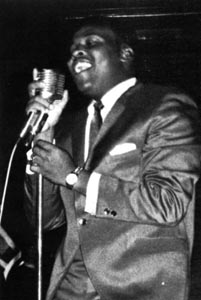 October 9, 1965, Greencastle, Ind. - The annual Derby Day festivities, sponsored by Kappa Tau Kappa and the Association of Women Students, concluded with a concert by national recording acts Booker T. and the MGs and the Isley Brothers. The unique set-up for the show included two stages on each end of Bowman Gymnasium so that when one band finished playing, the other could start immediately. The arrangement was designed "to ensure continuous dancing," reported The DePauw.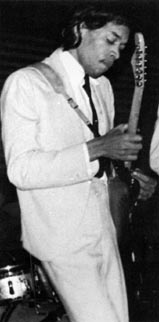 While the photo at the top of this article shows one of the Isley Brothers in song, the image at right depicts the band's guitarist, who introduced himself on this night as James Marshall Hendrix. Future generations would know the musician as Jimi Hendrix.
The shot of Hendrix, taken at Bowman Gym and published in the Mirage yearbook, is believed to be last showing him performing with the Isleys. Legend has it that less than a week later he signed a contract to perform with Joey Dee and the Starliters.
Tickets for the concert, which called for attendees to wear "socks and bermudas," were $2.25.
KTK-AWS' Derby Day featured a number of events, including a suitcase race, orange pass, egg throw and balloon stomp. The pairing of Kappa Alpha Theta and Sigma Alpha Epsilon took the top score, Phi Gamma Delta-Alpha Gamma Delta finished second, and Phi Delta Theta-Delta Gamma placed third.
Back