Joseph Flummerfelt '58 Among Participants in 2007 Spoleto Festival USA
January 6, 2007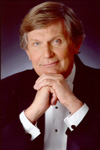 January 6, 2007, Greencastle, Ind. - Joseph Flummerfelt, the acclaimed conductor and 1958 graduate of DePauw University, is among the artists who will appear at the 2007 Spoleto Festival USA, May 25 through June 10 in Charleston, South Carolina. Playbill Arts reports the festival's events will include "a gala performance of Verdi's Requiem, with Joseph Flummerfelt conducting the festival orchestra, the Westminster Choir and the Charleston Symphony Orchestra Chorus."
The story asserts, "The 2007 Spoleto Festival USA will feature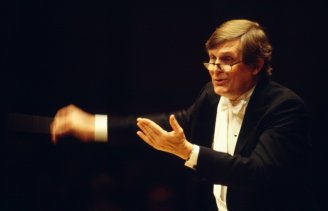 a number of American premieres, including the modern-day US debut of a rare comic opera by Gluck, a new song cycle by Philip Glass, and the first appearances in this country of the new national ballet company of the former Soviet republic of Georgia, an ensemble founded and headed by American Ballet Theater star Nina Ananiashvili."
Access the Playbill Arts announcement here.
Spoleto Festival USA was founded in 1977 by Gian Carlo Menotti, Christopher Keene and others involved in the Festival of Two Worlds as the American counterpart to that festival held annually in
Spoleto, Italy. A Pulitzer Prize-winning composer, Menotti began the Italian festival in 1958 as a forum for young American artists in Europe. The festival's events include a mix of dance, theater, opera, music, and the visual arts. Learn more by clicking here.
Called "the greatest choral conductor in the world" by Leonard Bernstein (seen with the conductor in photo at left), Flummerfelt returned to his alma mater in 2005 as Elizabeth P. Allen Distinguished University Professor of Music. Read more in this previous story.
Back