DePauw Cited in New York Times' 'Education Life' Section
January 8, 2007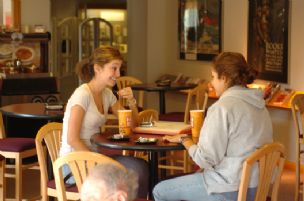 January 8, 2007, Greencastle, Ind. - "In the beginning, American universities admitted men only," notes the
New York Times
. An item published in a special "Education Life" continues, "Women were deemed unfit for the rigors of higher education -- insufficient blood to the brain, you know -- and in need of teaching more suited to their jobs as mothers and wives. The rest is history. Today, women make up 58 percent of college enrollment... The colleges and universities below, single sex at their founding, illustrate the path of coeducation."
A chart accompanying the text notes that DePauw University (then Indiana Asbury) began enrolling women in 1867, four years after the University of Wisconsin-Madison and before Northwestern University (1869) and the University of Michigan (1870). The graphic also illustrates
that DePauw's student body in the Fall 2006 was 56% female.
The text notes that fraternities "thrive sporadically. Of the institutions below, Washington & Lee University rules, followed by DePauw and Sewanee: University of the South." The chart puts the percentage of DePauw students who are members of the Greek system at 72% for men and 69% for women.
Read the item at the Times' Web site (a free registration may be required). Access the entire "Education Life" section here.
Back