Junior's Major League Baseball Aspirations Outlined in Indianapolis Star
January 11, 2007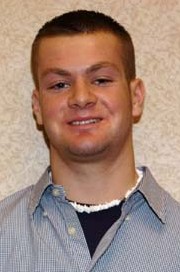 January 11, 2007, Greencastle, Ind. - "Since he was 17 years old, Matt Kleine has known he wanted to have a career in Major League Baseball -- but not necessarily as a player," begins a story in today's
Indianapolis Star
. "Currently a junior standout on DePauw University's baseball team, Kleine has aspirations of playing professionally. The 2004 Hamilton Southeastern graduate also has been planning for a career off the field. In the front office, to be more specific."
Melissa J. Phillips writes of how Kleine met Will Carroll, the author and writer for Baseball Prospectus, when the latter spoke at DePauw. That conversation led to an internship, with Kleine producing Carroll's weekly radio show. The junior's articles will soon begin appearing on Baseball Prospectus.com. 
"I guess it's every player's dream to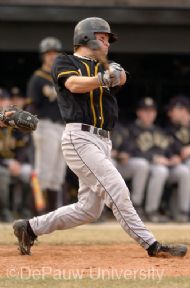 get drafted and play professionally," Kleine tells the newspaper. "But if that doesn't happen, I'm hoping to get into baseball operations and player development and, one day, be a general manager. I made that decision as a 17-year-old junior in high school. It was the day that Theo Epstein was announced as GM of the Red Sox at the age of 28. That was the day I decided that that's what I wanted to pursue in my life."
Carroll, who authored The Juice: The Real Story of Baseball's Drug Problems, says Kleine has "been brilliant. He's phenomenal as a producer, and it's something that he never had thought of and took to it like a duck to water. He does all the booking for the radio show... It really wouldn't exist in the format it is right now without him. Moving into the writing, he's succeeding in that as well. Pretty much if you give him a challenge, he succeeds."
Phillips writes, "Kleine, who's in the Management Fellows Economics honors program at DePauw, hopes to land an internship next fall with a major league team" and has been sending out résumés and traveled with Carroll to baseball's winter meetings.

Kleine, who was the most valuable player on DePauw's baseball team last year, is aiming high. His chances of success? Carroll calls it a "One-in-a-million shot, but he's a one-in-a-million type of guy."
Read the complete text at the Star's Web site.  Visit the Tigers baseball program online by clicking here.
Back