Indiana PBS Stations to Air DePauw Messages Before and After Percy Julian '20 Special
February 5, 2007
Visit Special Percy Julian Web Page; NOVA 'Forgotten Genius' Airs Tuesday, February 6, at 8 p.m. EST
February 5, 2007, Greencastle, Ind. - Television viewers across the state of Indiana will see messages from DePauw University before and after the television debut of the NOVA documentary "Forgotten Genius" on February 6. PBS stations statewide (except for the outlets in Merrillville and Muncie) will air a pair of fifteen second clips, which declare DePauw's pride in Percy Lavon Julian, the 1920 graduate and pioneering scientist who is the subject of the two-hour program. (Dr. Julian is seen in photo with then-President Russell J. Humbert)
View the first clip here:

[Download Video: "First Percy Julian Clip" - 706kb] and the second here:

[Download Video: "Second Clip" - 687kb]. They were created by Ken Owen '82, director of media relations at DePauw.
Indianapolis PBS affiliate WFYI's February members magazine includes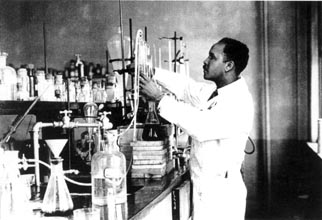 an admonition to viewers to watch the NOVA program. "The DePauw University graduate broke the color barrier in science a decade before Jackie Robinson did in Major League Baseball," writes Lloyd Wright, the station's president and CEO.
Percy Julian's research -- some conducted on the Greencastle campus -- led to the development of a low cost method of producing cortisone, as well as a synthethic drug for the treatment of glaucoma, among other breakthroughs.
Yesterday's Washington Post offered a preview of "Forgotten Genius" and USA Today called the program "inspiring." A Chicago Tribune op-ed last week discussed Dr. Julian's pioneering work.

On January 30, the United States House of Representatives passed a resolution honoring the life of Percy Lavon Julian.
To view an extended clip of the PBS program and to learn more about Julian's DePauw experiences through text, photos, audio and video, visit this special Web page which has been created to complement the NOVA documentary.
Back