Dick Tomey '60 Coaches North to Victory in College Football All-Star Game
January 16, 2007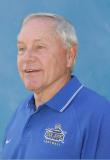 January 16, 2007, Greencastle, Ind. - "For the second time in three weeks, San Jose State Coach Dick Tomey was doused in Gatorade," writes the San Jose Mercury News of the 1960 DePauw University graduate. "Tomey guided the North to a 28-17 victory Saturday in the inaugural IntaJuice North-South All-Star Classic in Houston. Once again he relished being in the underdog role, having taken the Spartans to an unexpected 9-4 season and a victory in the New Mexico Bowl, which prompted his other Gatorade shower Dec. 23."
"Everybody

talked all week like we had no chance," Tomey tells the newspaper of his North squad. "That's music to our ears."
Access the story by clicking here. Read more about Dick Tomey, who has also been head football coach at Hawaii and Arizona, in this previous article.
Back