'Kevin McCarty: I'm Not Like You' at Peeler Art Center, January 29 - May 10
January 16, 2007
Also: 'The Logic of Place: Yuki Nakamura,' January 31 - March 1
Also: 2007 DePauw Biennial, February 14 - May 10
January 16, 2007, Greencastle, Ind. - "Kevin McCarty: I'm Not Like You," an exhibition featuring recent photographs by Los Angeles-based artist Kevin McCarty, will be on view at DePauw University's Richard E. Peeler Art Center from January 29 through May 10, 2007. The exhibition is free and open to the public, including an opening reception with a talk by the artist, Wednesday, February 21, at 4 p.m. (at left: Bryan, 2004 lightjet print)
"I'm Not Like You" is a series of documentary-style photographs and studio portraits that explore and document the Latino punk music scene in Los Angeles. Punk has been a thriving alternative aesthetic and cultural practice in Los Angeles for over twenty-five years. While it started as a movement that appealed to predominantly white suburban youth, it has since become a transnational aesthetic that has been taken up by Latino kids in Los Angeles who are often first or second generation immigrants. The bands, which perform in English and Spanish, play their gigs in alternative spaces, including rented halls and backyards in South Central Los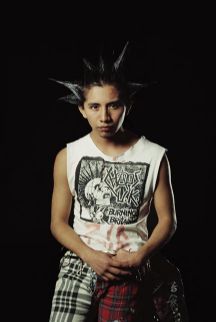 Angeles, Compton, El Monte, East Los Angeles, Southgate, Lynwood and Canoga Park, all working class neighborhoods.
As McCarty describes, he was introduced to this singular musical subculture by chance in the Los Angeles neighborhood where he currently resides. "Three doors down a sign hung on the gate of a tan apartment building: 'Chaos Production Presents! $2.' I paid. I made my way up the driveway. In the back seventy young punks were listening to a band, slam dancing on the concrete driveway, and drinking forties. Every amp was plugged into a single extension cord via two underground splitters. The sound was raw and the lyrics were in Spanish. If punk is dead, like so many claim, I was standing in a crowd of zombies. Had the living dead returned to reclaim Babylon? (at right: SP (Street Punk), 2005 lightjet print)
The series of photographs that comprises "Kevin McCarty: I'm Not Like You" poignantly captures and documents the energy, complexity and singularity of a youth community and culture that now flourishes in a decidedly different ethnic and economic sphere. As he states: "Fashion markets thrust punk at young suburban youth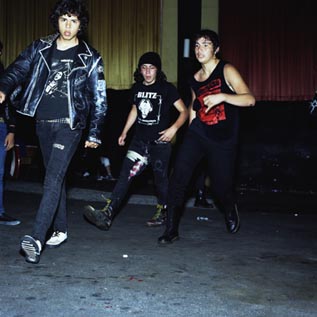 as a consumable image and word. It is sold in mall boutiques and by way of trendy mail order catalogues. This targeted market pays for their transgression. Faced with the proliferation of a watered-down fad, the original concepts and motivations of punk rock seem futile to recreate earnestly. However, it is this impossibility being performed today -- by the youth you'd least expect -- that gives the gesture fresh agency." (at left: Blitz In The Pit, 2004, lightjet print)
Kevin McCarty holds a BFA from the University of Cincinnati (2001) and an MFA from California Institute of the Arts (2003), where he currently teaches. His work has been exhibited at a number of contemporary art venues in Los Angeles, Pasadena, Santa Monica, Seattle and Cincinnati. McCarty's curatorial projects include "Sticky Bonds," a program of short film and video that address the complex bonds between gay, lesbian, transgender and bisexual men and women; "Studio 18," a one-night art exhibition of art made by students in the Los Angeles area; and the "Queer Student Union Film Festival," a festival featuring the work of Cal Arts students
and emerging artists.
Learn more about the artist at his Web site.
The galleries at the Richard E. Peeler Art Center are open Tuesday-Friday 10 am - 4 pm; Saturday 11 am - 5 pm; and Sunday 1 - 5 pm, and are closed during University breaks and holidays. For more information, click here or contact: Kaytie Johnson, director and durator of University galleries, museums and collections via e-mail or by calling (765) 658-6556.
Back