Wright State 11-4 Under New Coach Brad Brownell '91
January 18, 2007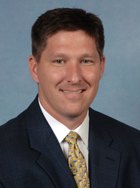 January 18, 2007, Greencastle, Ind. - "We're certainly not the only one that makes up a scouting report," says Wright State University head men's basketball coach Brad Brownell. The 1991 DePauw University graduate is quoted in a Dayton Daily News story that describes Wright State's scouting report for tonight's game with Cleveland State as "extensive." Brownell tells the newspaper, "When I played for coach Royce Waltman at DePauw and worked with coach Jim Crews at Evansville, that was important. When I coached with Jerry Wainwright (North Carolina-Wilmington), he put me in charge of all that."
In his first year at Wright State, Brownell has led

the Raiders to an 11-7 mark overall, 4-1 in the Horizon Lead. The team was 13-15, 8-8 in 2005-06.
Access the story by clicking here, and learn more about Brad Brownell in this previous article.
Back