DePauw University Band Releases Sixth CD, Brooklyn Bridge
January 20, 2007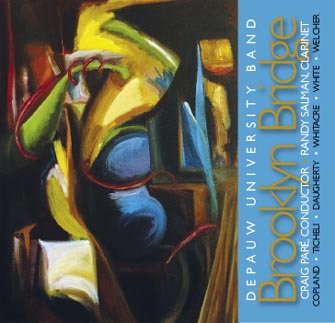 January 20, 2007, Greencastle, Ind. - The DePauw University Band, under the direction of Craig Paré, proudly announces the release of its sixth compact disc, Brooklyn Bridge. Like the Band's previous CD, Toccata Festiva, the new release is being distributed on the prestigious Mark Masters label. Brooklyn Bridgewas recorded April 28-30, 2006 in DePauw's Kresge Auditorium.
"Being once again on the Mark Masters label means that our compact disc, which highlights the skills and talents of DePauw University musicians, will be distributed around the world in commercial retail stores and online music outlets," says Dr. Paré, associate professor of music. "The quality of the University Band members' performances is a testament to the high-quality teaching that takes place every day in the DePauw School of Music. I am proud of both our students, who are challenged to perform at their highest levels, and our faculty, who patiently and expertly guide our students' progress and development as musicians. The entire CD recording project is a wonderful collaborative endeavor that is uniquely DePauw."
Highlights of the compact disc include:
A solo performance of Michael Daugherty's clarinet concerto, "Brooklyn Bridge", by DePauw Professor Randy Salman, which also features faculty harpist Harriet Thompson Moore. (photo at right shows, l-r, Professors Paré and Salman)
One of the works, "Patterns for Band," is by Donald H. White, past professor of composition and director of the School of Music.
Cover art for the compact disc features Germination by Allison M. Stajszczak, a 1999 graduate of the University, and the disc's art design and layout were created by Dian Phillips, director of publications.
Learn more about the University Band's CD recording project, and hear MP3 clips of selected works from each of the University Band's compact discs, by clicking here. For more information on the University Band and its compact disc projects, contact Professor Paré via this e-mail link.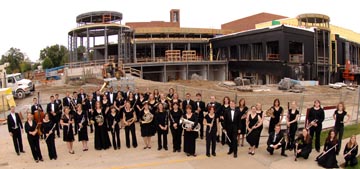 Copies of Brooklyn Bridge, along with the University Band's other five compact discs, can be purchased at Mark Custom Recording Service and Shattinger Music Company.
The photo above shows members of the University Band in front of the Performing Arts Center, which is being renovated and expanded as the Green Center for the Performing Arts. Read more in this previous story.
Back