Lee Hamilton '52 Testifies Before House Foreign Affairs Committee on Iraq War
January 19, 2007
January 19, 2007, Greencastle, Ind. - "Lee Hamilton, the Democratic co-chairman of the Iraq Study Group, told a House panel that Bush's plan to deploy 21,500 additional troops to secure Baghdad and Anbar province could delay progress in training Iraqi security forces," reports the Associated Press this afternoon. "The bipartisan Iraq Study Group recommended removing U.S. combat troops by early next year, and changing the U.S. mission from security to training and logistical support of Iraqi troops."
Hamilton, a 1952 graduate of DePauw University who served 34 years in the House of Representatives, told the Foreign Affairs Committee today that if America's emphasis in Iraq doesn't change, "you delay the date of completion of the training mission. You delay the date of handing responsibility to the Iraqis. You delay the date of departure of U.S. troops," AP reports.
United Press International's summary of Hamilton's testimony states that he "supported some points of the plan President Bush put forth last
week, but said he fears efforts to secure Baghdad will interfere with what should become the main mission of U.S. troops -- training Iraqi forces... Hamilton said no security plan can work in the absence of 'national reconciliation' among Iraqi factions."
Hamilton, who also served as vice chair of the 9/11 Commission, told the Foreign Affairs Committee, which he formerly chaired, "What is lacking, I believe, in the administration's approach is holding Iraqi leaders to specific benchmarks and to specific dates of performance. In the absence of pressure, the Iraqi government will not perform. In the absence of pressure, there will be no national reconciliation.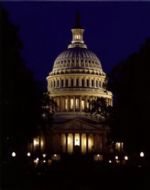 In the absence of national reconciliation, there will be sectarian violence without end," he said.
Access the AP story at the Web site of the Boston Globe. The UPI report can be accessed via the Washington Times.
Lee Hamilton, who was recently called "Washington's indisputable Renaissance Man," was on the DePauw campus in October to discuss the Iraq war and other matters at DePauw Discourse 2006: Issues for America. Access a story -- including video and audio clips -- here.
Back