Prof. Cleveland Johnson Performing in India with Global Rhythms
January 23, 2007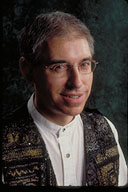 January 23, 2007, Greencastle, Ind. - Cleveland Johnson, professor of music and interim dean of the DePauw University School of Music, is in India where he is spending two weeks traveling and performing with the world music ensemble, Global Rhythms. Highlights of the tour include a January 29 performance in Chennai at the Indian Institute of Technology Madras, and a February 2 appearance at the third annual Young Indians Summit, a national event where young Indian entrepreneurs, owner-managers, and professionals will examine issues critical to India's development.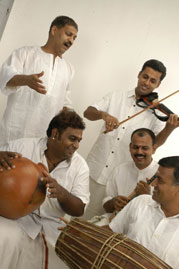 Global Rhythms is under the direction of Srinivas Krishnan (seen at right), a group that has performed at DePauw several times and with whom Johnson has collaborated since 1996. Recently, the ensemble has enjoyed increasing opportunities for international performances through an association with A. R. Rahman, described by Andrew Lloyd Webber as "the Indian Mozart." His work includes more than 75 film scores (including the Academy Award-nominated Lagaan), the music for the Broadway musical Bombay Dreams and a musical based on Lord of the Rings. Rahman has sold more than 70 million records worldwide.
The first concert is previewed in the Hindu.
Professor Johnson last visited India during Winter Term 2004 where he conducted research with a team of four DePauw School of Music students with funding from the AsiaNetwork. Read more in this previous story.
Back