Senior Honored as 'Outstanding Future Music Educator'
January 25, 2007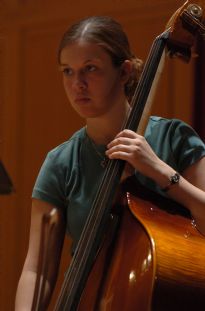 January 25, 2007, Greencastle, Ind. - Sonja Emberg, a senior music education major at DePauw University, has been named Indiana's 2006 "Outstanding Future Music Educator of the Year." Emberg was one three individuals honored by the Indiana Music Educators Association.
"I'm proud to have represented DePauw and the great music education program we have," says Emberg, who is currently student teaching string music at Belzer Middle School in Indianapolis' Lawrence Township. "The DePauw music education program has helped me to grow as a musician as well as a teacher. I feel the program helped to develop me into a well-rounded individual who is even more passionate about music education than I was when I came to DePauw."
"Since her arrival on campus, Sonja has consistently been a very strong music education student -- well-prepared, high-achieving, dedicated, and curious," states Caroline Jetton, associate professor of music and associate dean of the School of Music. "Sonja has always given her best, set high standards for herself, and devised plans to accomplish her goals. She is most deserving of the award and is an exceptional role model for music majors everywhere."
Presented annually, the "Outstanding Future Music Educator of the Year" award is open to all collegiate music education majors in the state, and is adjudicated by an outside panel of evaluators. Jetton, who teaches music education courses and is a faculty advisor for the DePauw Collegiate Music Educators National Conference chapter, describes the process: "Students complete an application and write an essay describing their work, contributions to music education, and work with children and youth. Supporting evidence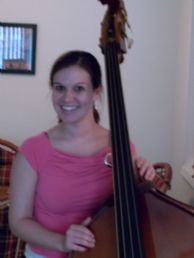 of their accomplishments is also included. The materials are sent to the state collegiate advisor and all identifying information is removed. The materials are then sent to the national office and read by judges. The judges identify those deserving of the award, who are recognized each year at a statewide collegiate luncheon."
"Because I feel that string programs are a vital and important part of music education," Emberg adds, "my future goals as a music educator are to work to promote and build string programs. These programs offer a unique and exciting experience which I feel every child should have the opportunity to learn about and enjoy."
In the last nine years, seven DePauw music education students have been honored with the award:
Sonja Emberg (2006)
Amanda Grahn (2003)
David Barbick (2002)
Tiffany Ingles (2001)
Matt Clifford (2000)
Nick Parcell (1999)
Danh Pham (1998)
Visit the DePauw University School of Music online by clicking here.
Back