Examine 'The Logic of Place' at DePauw's Peeler Art Center, January 31 - March 4
January 27, 2007
Also: 'Kevin McCarty: I'm Not Like You,' January 29 - May 10 and 2007 DePauw Biennial, February 14 - May 10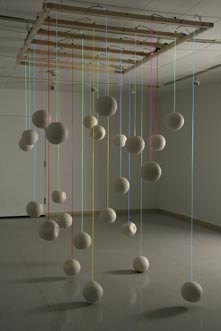 January 27, 2007, Greencastle, Ind. - "The Logic of Place: Yuki Nakamura," an exhibition featuring recent work by Seattle-based artist Yuki Nakamura, will be on view at DePauw University's Richard E. Peeler Art Center from January 31 through March 4, 2007. The exhibition is free, and you're invited to attend an opening reception with a talk by the artist on Wednesday, February 21 at 4 p.m. (at left: Dream Suspended, 2006; courtesy of the artist and Howard House, Seattle)
Raised on the southern Japanese island of Shikoku -- where a very strong sense of regional identity was instilled by the island's geography and its isolated relationship to the rest of Japan -- Yuki Nakamura creates sculptural installations (with ceramics as her primary medium) that emphasize the relationship between subject, object and place. One of the recurring themes in Nakamura's work is the concept of how islands represent boundaries. For the artist,
the boundary between land and water is an intensely powerful metaphor for articulating cultural identity. As the artist states: "I am interested in maps, especially islands: there exists a very clear boundary between land and water. This strict separation is an intensely powerful metaphor for articulating identity and cultural inclusiveness. I question the tenuous relationship between two worlds: the internal world of one's self, and the external world of cultural façade." (at right: detail of Dream Suspended)
The internalized sense of separation resulting from the geographic isolation of her past is evident in her work, where Nakamura relates to the world and its surroundings as parts of a spatial puzzle.
Yuki Nakamura received her B.F.A. from Joshibi University of Art and Design in Tokyo in 1994, and her M.F.A. from the University of Washington, Seattle,
in 1997. She has been an artist-in-residence at the Pratt Fine Art Center in Seattle, and has also carried out residencies in Johnson, Vermont, Novara, Italy and La Napoule, France. Her work has been widely exhibited at a wide range of venues in the United States, Europe, Asia and Canada. (at left: White Vanishing, 2000; courtesy of the artist and Howard House, Seattle)
Nakamura is also a member of SOIL, a notable artist-run gallery in Seattle, Washington, a space known as a site for curatorial and artistic collaboration and experimentation.
The galleries at the Richard E. Peeler Art Center are open Tuesday through Friday 10 a.m. – 4 p.m.; Saturday 11 a.m. - 5 p.m.; and Sunday 1 – 5 p.m., and are closed during University breaks and holidays. Visit the Peeler Center online by clicking here.
Back