Son of Percy Julian '20 Calls Upcoming NOVA Program "Wonderful"
January 25, 2007
Visit Special Percy Julian Web Page
January 25, 2007, Greencastle, Ind. - A column in today's Capital Times states that Madison, Wisconsin civil rights attorney and "champion of the underdog, Percy Julian Jr., did not emerge on the Madison scene out of nowhere. Percy didn't talk about it all that much, but his Madison friends eventually learned that his father, Percy Julian Sr., was one of the greatest scientists of the 20th century," writes Doug Moe of the 1920 graduate of DePauw University.
The journalist notes, "Julian Sr., who died in 1975, has been honored for his brilliance as a chemist -- in 1993, the U.S. Postal Service issued a stamp in his memory -- but he is not the household name he should be. That situation might be improved with the Feb. 6 airing of an ambitious, two-hour documentary devoted to Julian's life, 'Forgotten Genius,' a presentation of the acclaimed NOVA series on PBS."
The column, which notes Dr. Julian's DePauw experience, reports, "One interesting aspect of the NOVA program... will be period re-enactments with Tony Award-winning actor Ruben Santiago-Hudson portraying Julian. The 'Forgotten Genius' producer, Stephen Lyons, said he was struck by the relative scarcity of historical material on Julian that was available when NOVA began its research. 'Before long,' Lyons notes, 'it dawned on us that we weren't just producing a film. We were preserving the legacy of one of the most significant scientists in American history.'"
Lyons and his crew came to Greencastle several times, beginning in May 2002 when they interviewed several members of the DePauw family who had close ties to Percy Lavon Julian, including Donald "Jack" Cook, professor emeritus of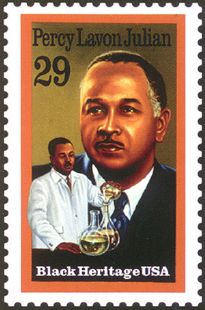 chemistry, and Wesley J. Lyda, a 1935 DePauw graduate who studied under Dr. Julian.
Moe notes that he talked with Percy Julian Jr. yesterday as he returned from anm advance screening of "Forgotten Genius" in Washington, D.C. "It is a wonderful movie," the son of the program's subject tells the newspaper.
Read the complete text by clicking here.
DePauw is sponsoring several alumni gatherings to commemorate the NOVA tribute to Percy Julian. Learn more in this previous story.
To view an extended clip of the PBS program and to learn more about Dr. Julian's DePauw experiences through text, photos, audio and video, visit this special Web page which has been created to complement the NOVA documentary.
Back