Award-Winning Fiction Writer Brock Clarke Here March 7
March 2, 2007
March 2, 2007, Greencastle, Ind. - Award-winning fiction writer Brock Clarke will visit the campus of DePauw University Wednesday, March 7, as a guest of the James and Marilou Kelly Writers Series. Clarke, who teaches creative writing at the University of Cincinnati, will appear in the auditorium of the Richard E. Peeler Art Center at 7:30 p.m. The presentation is free and open to all.
Clarke is the author of a novel, The Ordinary White Boy, and two short story collections, What We Won't Do (which won the Mary McCarthy Prize in Short Fiction) and Carrying the Torch (recipient of the 2004 Prairie Schooner Book Series Prize in Fiction). His fourth book -- a novel titled An Arsonist's Guide to Writers' Homes in New England -- will be published in September.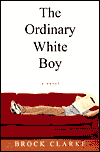 "Reading Brock Clarke's stories, I found myself constantly stopping to share lines -- some funny, some wicked, some tender -- with my wife, who started the book as soon as I'd finished," says Tom Franklin, author of Poachers. "She then read me different lines and we marveled at how much these pages hold, how inexhaustible their supply of riches. What a book, what a writer, what a career to watch."
"Much of what we do, we do alone," Clarke told Cincinnati's CityBeat in a 2005 interview. "A writer spends a ridiculous amount of time by his or herself in a room with a computer, not talking to anyone. Which is fine and necessary -- it's a choice after all, and it's a lot easier to do this job than a lot of other ones. But once you've left the room, it's important for a writer, and hopefully for readers,
to be able to share your work and to witness other people's work, too."
He continued, "It's good for the writer to have these readings, these magazines, but it's also good for the community and culture as a whole. I do feel that. I do feel the world would be a sorrier place without literature. That's corny, and no doubt I'll regret saying it -- especially since I can think of a goodly number of books I don't think the world would miss one bit, or at least that I wouldn't miss -- but on the whole I do think it's true."
Learn more about the Kelly Writers Series by clicking here.
Back