Award-Winning Poet Kay Ryan to Discuss Her Work April 5
March 28, 2007
March 28, 2007, Greencastle, Ind. - The poems of Kay Ryan "with their compact size and technical precision, their wit and sharp intelligence, have been praised by critics for their ability to do and say things that none of her contemporaries can match," writes the Christian Science Monitor. On Thursday, April 5, Ryan -- winner of such prestigious awards as the Guggenheim Fellowship and the Ruth Lilly Prize -- comes to Greencastle. The conversation with Kay Ryan will begin at 7 p.m. at the Putnam County Library, 103 E. Poplar Street, Greencastle, and is free and open to all.
Ryan's appearance is presented by the local library in conjunction with DePauw's James and Marilou Kelly Writers Series.
Kay Ryan's sixth book of poems, The Niagara River, was released in 2005 by Grove Press. Her previous books include Say Uncle, Elephant Rocks, and Flamingo Watching, which was a finalist for both the Lamont Book Award and the Lenore Marshall Poetry Prize.
"Poems should leave you feeling freer and not more burdened," Ryan says. "I like to think of all good poetry as providing more oxygen into the atmosphere; it just makes it easier to breathe."
"Ryan is the poet laureate of intangible surfaces and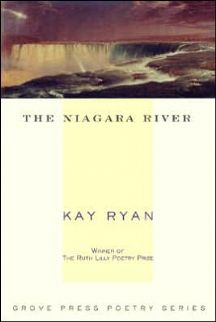 unclassified states of consciousness," opines Library Journal. "A miniaturist in thrall to brevity and pinpoint imagery, she articulates a ghostly and unreal universe where life is 'the film/ sandwiched/ between twin/ immensities/ of nothing.'" The New York Times' David Kirby writes, "Ryan's special talent is for illuminating the known and showing how the unknown defines it, as when she writes of a frozen lake that has its own seasons under the ice or says that Houdini's greatest trick was to emerge from the chains and padlocks as himself."
A Chancellor of the Academy of American Poets, Ryan teaches at the College of Marin in Kentfield, California. Her work has been selected three times for The Best American Poetry and her poems and essays have appeared in the New Yorker, Poetry, Paris Review and many other journals and anthologies. The poet has also been named to Entertainment Weekly's "It List."
For more information on the Kelly Writers Series, click here.
Back