Opera Theatre Presents Strauss' Die Fledermaus, February 8-11
January 30, 2007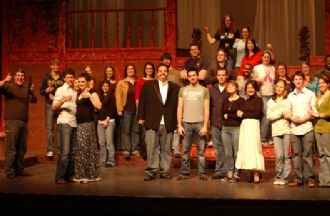 January 30, 2007, Greencastle, Ind. - The DePauw Opera Theatre invites you to visit the Performing Arts Center February 8-11 to enjoy the comic operetta
Die Fledermaus
by Johann Strauss II. Under the direction of Keith Tonne and the musical direction of Orcenith Smith, the show will be sung in English and features two different casts. (photos accompanying this story are from rehearsals)
Performances are at 7:30 p.m. Thursday through Saturday with a 2 p.m. matinee Sunday in Moore Theatre. Tickets are $6 for adults and $3 for students, and may be purchased at the Performing Arts Box Office or reserved at (765) 653-4827 or by sending an e-mail here.
Set in Vienna in the mid 1800s, Die Fledermaus tells the story of Gabriel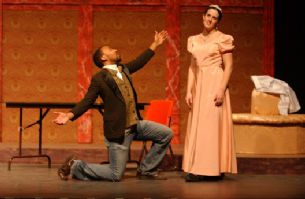 von Eisenstein, who is about to go to jail for punching a politician. Falke, a "friend" who is looking to avenge a practical joke that Eisenstein played on him, convinces Eisenstein to go instead to a wild party thrown by the eccentric Russian Prince Orlofsky before reporting to prison.
At the party, Eisenstein flirts with many women, including a glamorous Hungarian countess. The "countess" turns out to be Eisenstein's wife Rosalinda, who tries and succeeds in getting revenge for his indiscretions. Falke gets his revenge as well. This colorful production is a perennial crowd pleaser and sure to entertain.
Sophomore Camron Parker is assistant director for the production, with the DePauw University Orchestra providing musical accompaniment. Under the the supervision of Caroline Good, freshman Alaine Geeding is the costume/make-up coordinator. The sets were designed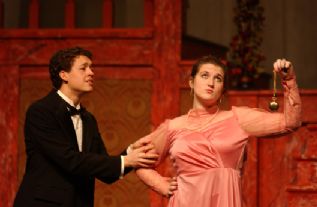 by Duane Skoog and built as a Winter Term project by a team led by Tim Good.
"This group of students has been amazing," says Professor Tonne. "They have soaked up the staging incredibly quickly. They have worked at a level I would expect of professionals," he adds.
DePauw Opera Theatre's performance of Die Fledermaus is generously underwritten by Elaine Showalter Smith '36, who was also one of the benefactors of the concert organ in Kresge Auditorium which honors her late husband, J. Stanford Smith '36. A graduate of the DePauw University School of Music, Mrs. Smith majored in piano and minored in organ and mathematics.
Visit the DePauw School of Music online by clicking here.
Back