Civil Rights Play by and Featuring Arthur Beer '56 Being Staged in Detroit
January 26, 2007
January 26, 2007, Greencastle, Ind. - Arthur J. Beer, co-chair of the theatre department at the University of Detroit Mercy and 1956 graduate of DePauw University, portrays legendary attorney Clarence Darrow in Malice Aforethought: The Sweet Trials, a play he wrote, which opens February 2 at Marygrove College Theatre in northwest Detroit. Michigan's Between the Lines says the play examines "a pivotal moment in Detroit's history" -- the events that transpired after Ossian Sweet, a prominent African-American physician, moved with his family into a previously all-white neighborhood.
Dr. Beers' drama premiered in November of 1987. At that time, he told the Detroit Free Press, "Detroit as we know it today is due to this one trial. The Sweet trial, I believe, freed blacks from those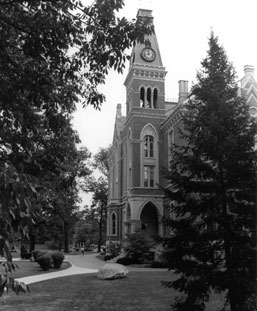 ghettos. The presence of so many blacks in city government follows from this trial."
Donald V. Calamia writes, "Although he had been interested in civil rights since his days as an undergrad at DePauw University in Indiana in the 1950s, Beer was unfamiliar with the Ossian Sweet saga when he was first approached by U-D's Sesquicentennial Commission to write something for the state's 150th birthday celebration. 'They knew I was a playwright. In fact, I'm the playwright-in-residence here,' Beer said. After he was given a brief summary of the trial, the creative juices started flowing."
The story notes how interest in the Sweet trials has reignited recently, and how a series of events will be held in conjunction with the restaging of the drama.
Read the complete story by clicking here. Learn more about Art Beer and his work here.
Back