Performing Arts Series Presents My Children! My Africa! February 9
February 1, 2007
February 1, 2007, Greencastle, Ind. - The DePauw University Performing Arts Series presents
My Children! My Africa!
," a play by Athol Fugard, Friday, February 9 at 7:30 p.m. in Meharry Hall of historic East College. The acclaimed drama will be performed by A Mixed Company, a repertory ensemble that specializes in plays by Fugard and other contemporary writers whose works focus on race relations. The program is presented free of charge.
Athol Fugard has been hailed by some as the greatest playwright in the English language since Beckett, and is well known for his intense dramas which chronicle the history of political turmoil and personal tragedy in his native South Africa. My Children! My Africa! was inspired by a real-life incident in which a black teacher who was acting as a police informant was taken by a black mob to be tortured and burned to death. Deeply shocked by the incident, Fugard wrote the play to explore the potential horror he imagined possible if continued polarization between blacks and whites in South Africa could not be reversed.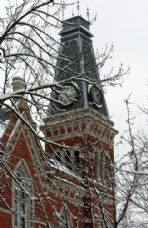 The Philadelphia Inquirer described My Children! My Africa! as "a document of towering stature," while the Village Voice noted that "the drama vacillates superbly between political parable and personal tragedy."
A Mixed Company's production features veteran actor Leonard Stephenson as "Mr. M." Stephenson has shared stages with such notable actors as Martin Landau and Richard Thomas, and has appeared on television's Hill Street Blues and St. Elsewhere. Completing the cast of My Children! My Africa! are Conrad Caton as the black student Thami from the Cookhouse ghetto, and Esther Barlow as Isabel, a white student of middle class upbringing.
For more information, call (765) 658-4689 or send an e-mail here.
Back