Refusal to Use "Tool of American Power" Troubles Iraq Study Group Co-Chair Lee Hamilton '52
January 29, 2007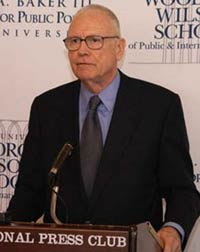 January 29, 2007, Greencastle, Ind. - "One of the most troubling developments in American foreign policy is an increasing reluctance to pursue diplomacy," writes Lee Hamilton in today's Indianapolis Star. "Nowhere is this more apparent than in our current approach toward Iran and Syria," adds the former congressman, who co-chaired the Iraq Study Group and is a 1952 graduate of DePauw University.
Hamilton, co-chair James Baker and the other members of the Study Group (which included Vernon E. Jordan Jr. '57) "recommended a regional diplomatic initiative, including talks with Iran and Syria, aimed at supporting stability in Iraq and the broader Middle East," Hamilton reminds readers. Instead, "President Bush decided against engagement and ratcheted up pressure on both countries."
A member of the House of Representatives for 34 years, Hamilton declares, "the current approach is not working. We have tried to isolate Iran and Syria for years. Where has it gotten us? Because of its strong ties to Shiite militias and political leaders, Iran may have as much influence in Iraq as the United States. It is also a rising regional power and continues to develop its nuclear program. Syria has been a negative force within Iraq as well, with insurgents and arms flowing across its border, and continues to support terrorist organizations in Lebanon and the Palestinian territories."
The situation is worsening as we avoid talks, Hamilton asserts, as he offers a lesson in history, his major at DePauw. "For nearly half a century, the United States talked to the Soviet Union, a government that supported the destruction of the capitalist system, and had the capacity to destroy the entire world," he writes. "Yet we negotiated, and in doing so we protected our interests, better understood the Soviet position, and made our views and concerns known. In some areas, we worked together. In others, we disagreed. But we never feared to negotiate. Even as President Reagan went to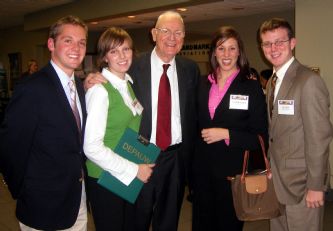 Berlin and called on Soviet leader Gorbachev to 'tear down this wall,' he was sending an envoy to Moscow to negotiate over arms control."
Now director of the Woodrow Wilson International Center for Scholars in Washington, Hamilton states, "Talking to countries like Syria and Iran is not appeasement. Conversation is not capitulation. The United States need not sacrifice its interests or its values to talk." (at left: Lee Hamilton with DePauw student journalists, October 2006)
The Democrat concludes, "You cannot conduct diplomacy if you talk only to your friends. Certainly, we would like to see different and friendly governments in Tehran and Damascus. Yet we also have to deal with reality. If we can get those governments to take even modest steps to enhance stability in Iraq, both the United States and Iraq will be better off... Denouncing countries and refusing to talk to them may make us feel better in the short run,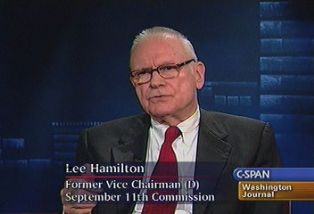 but it makes little sense in the long run. Refusing to use this tool of American power does not make America stronger; it makes us weaker."
Read the complete essay at the Star's Web site.
Lee H. Hamilton also served as vice chair of the 9/11 Commission and has been recently praised for his bipartisanship and pragmatism by the New York Times and Chicago Tribune, among other publications. He was on the DePauw campus in October to discuss the Iraq war and other matters at DePauw Discourse 2006: Issues for America. Access a story -- including video and audio clips -- here.
Back