Enjoy Step Afrika! and Jackie, Vi & Lena During Black History Month at DePauw
January 30, 2007
January 30, 2007, Greencastle, Ind. - Black History Month at DePauw University will be commemorated and celebrated with two energetic, live performances: Step Afrika! on Thursday, February 1, and Jackie, Vi & Lena on Saturday, February 10. Both events will take place in Kresge Auditorium of the Performing Arts Center and are free and open to the public.
Step Afrika!, a Washington, D.C.-based dance troupe, celebrates the art of "stepping," a percussive dance that grew out of rituals practiced by historically African-American fraternities and sororities in the early 1900s. In stepping, the body is used as an instrument to create intricate rhythms and sounds through a combination of footsteps, claps and spoken word. Stepping comes from a long and rich tradition in African-based communities that use movement, words and sounds to communicate allegiance to a group.
The art form is universal and highly appealing to young people. Today, stepping can be found in high, middle and elementary schools across the U.S. as well as in churches and community-based organizations.
Step Afrika! is sponsored by DePauw Student Services and the Resident Student Association. The February 1 program, which begins at 8:30 p.m., is free and suitable for all ages.
The national tour of Jackie, Vi & Lena -- a live performance about three famous civil rights figures --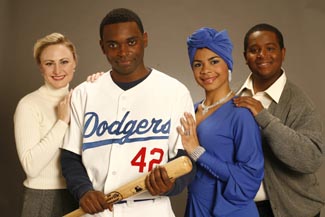 comes to DePauw February 10 at 8 p.m. Sponsored by DePauw Student Services, Jackie, Vi & Lena is a riveting new play by Chicago's David Barr III. Produced by The JENA Company of New York, Barr's play focuses on the interconnected lives of Jackie Robinson, Vi Liuzzo and Lena Horne through dance and song. The trio come together for a pivotal event in the civil rights movement -- the tumultuous Selma to Montgomery March led by Dr. Martin Luther King. (photo at left: Carol Rosegg)
Jackie Robinson triumphed over ridicule and racism, becoming the first African-American to play Major League Baseball for the Brooklyn Dodgers. Later in his career, this Baseball Hall of Famer put his life in danger as a civil rights activist.
Equally noteworthy but less well known is the Detroit housewife, Viola Liuzzo. Inspired by civil rights activists in Alabama, she drove more than 1,000 miles to join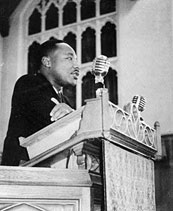 the protest march led by Reverend King. Liuzzo was shot to death by the Klu Klux Klan the night of the protest and is the only white person enshrined on the National Civil Rights Memorial.
At the heart of the Barr's play is legendary star of stage and screen, Lena Horne, the first African-American to sign a contract with a major motion picture studio. Horne refused to become the "token performer" Hollywood tried to make her. With her sharp tongue and brilliant musical talent, she tells her own story and narrates Jackie and Viola's as well. (at right: Dr. King speaking at Gobin United Methodist Church on the DePauw campus, September 5, 1960)
The production of Jackie, Vi & Lena is directed by Joy Vandervort-Cobb, an Emmy Award-winning actress, regional theatre director and professor at the College of Charleston.
Back