Mistakes and Ethical Lapses "Cloud" Credibility of Journalism, Prof. Jeff McCall '76 Tells Bill O'Reilly Radio Show
January 30, 2007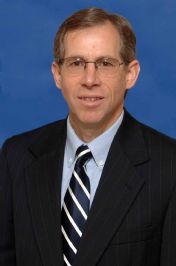 January 30, 2007, Greencastle, Ind. -

[Download Audio: "Getting it Straight" - 169kb] "I don't want people to get the wrong impression that there is no good journalism going on, because I think there are plenty of good journalists and highly professional people," Jeffrey M. McCall, professor of communication at DePauw University, told Bill O'Reilly's nationally syndicated radio program this afternoon. "But when we have these kinds of mistakes it throws a cloud over the whole industry," the professor added. McCall was called upon to discuss what the host called "a dramatic and drastic decline in reporting standards" in recent years.
O'Reilly cited a number of incidents in which media outlets misstated or misrepresented facts, as well as questions that have been raised over CNBC's Maria Bartiromo's professional relationship with a Citigroup executive, who has since been fired.

[Download Audio: "CNBC's Responsibility" - 198kb] "It would seem to me that it would be in the best interests of CNBC to step forward and just clarify what their policies are," Dr. McCall, a 1976 DePauw graduate, told the radio show, which is heard on 390 stations. "Not that they need to beat up one of their own correspondents in public, but to say, 'Here are our policies, here's how we feel, we're confident that Citigroup was not buying influence.' But this is one of those things where, even if Bartiromo's reporting is fair, even if it is objective, it looks bad."

[Download Audio: "O'Reilly's Introduction" - 111kb] O'Reilly introduced the professor by noting that he is the author of the upcoming book, Viewer Discretion Advised: Taking Control of Mass Media Influences (due this spring from Rowman & Littlefield Publishers).
Asked about the biases of journalists and their organizations, McCall said,

[Download Audio: "Objectivity" - 229kb] "News reporters have to go into any story with the idea that they're helping to serve our democracy, and if they've got big problem
agendas or ideologies that are getting in the way they need to be able to say, 'I'm not the right person to cover this story and move on to something which they can handle without their ideologies getting in the way. And you know, without credible and accurate information it is hard for people to exercise their democratic duties, not only with credible and accurate information but on the right topics."
The professor told the national audience,

[Download Audio: "More from McCall" - 265kb] "I think even people who have political philosophies one way or the other can still be objective and fair in their reporting. He added that the reasons for unbalanced and inaccurate coverage "go beyond (bias), to the extremely competitive environment, to the attempt to find the most explosive angle to any story, to the deadlines, and to the competition -- just that
we're having to beat other people to the scoop and sometimes getting the scoop is what's most important."
Jeff McCall has appeared on O'Reilly's FOX News program -- the most-watched on cable television -- six times in the past. A summary of his May 2, 2006 remarks can be accessed, along with video clips, in this previous story.
An op-ed by Dr. McCall, analyzing the struggles faced by satellite radio, was published in the Indianapolis Star last weekend. He wrote another recent column on the CBS Evening News and its anchor, Katie Couric.
Back