Reporting of Andrew Tangel '03 Cited in German Newspaper
February 2, 2007
February 2, 2007, Greencastle, Ind. - Andrew Tangel, a reporter for the News Journal of Wilmington, Delaware and 2003 graduate of DePauw University, is quoted in a story in the Süddeutsche Zeitung of Munich, Germany. The article examines sex offender registries in the United States and how the data they contain are often used by reporters.
"In Delaware, 36 sex offenders live too close to schools," Tangel tells the German publication. say Tangel. The report notes that, using an address list and a computer, Tangel was able to identify sex offenders who had been inadequately monitored by the state, including one "particularly dangerously classified child violator, who worked and lived unidentified" in a building that was used by children.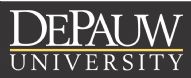 The entire story can be accessed -- in a very loose translation provided by Google -- by clicking here.
Back