Prof. Bruce Stinebrickner Named to Georgetown U's 'All-Century' Basketball Team
January 30, 2007

January 30, 2007, Greencastle, Ind. - "Few students in Georgetown's 100 years of intercollegiate basketball embodied the concept of 'student-athlete' as Bruce Stinebrickner did," notes the Washington, D.C.-based university. Stinebrickner, professor and chair of political science at DePauw University, is among the top 100 basketball players in Georgetown's hoops history, which began exactly a century ago. Stinebrickner and the other members of the "All-Century team" will be feted at a gala tribute in the nation's capital February 9-10.
"A leader on the court and in the classroom, Stinebrickner set a high standard for those who followed him in both pursuits," continues the citation from his alma mater. "An all-athletic
and academic selection, Stinebrickner chose Georgetown over offers from Duke, Harvard, and 20 other schools." The 6' 1" 180 pound forward played guard and forward for the Hoyas from 1965-68, and was the team captain in 1968, when he received the Robert A. Duffey Award. He ranks 16th all-time at Georgetown with a 51.7% field goal percentage.
Stinebrickner "earned an NCAA postgraduate scholarship award, the only Georgetown basketball player ever so honored. Off the court, he graduated magna cum laude, was a Phi Beta Kappa, a member of 'Who's Who of American Colleges and Universities,' and the recipient of eight postgraduate fellowships, including the Woodrow Wilson Fellowship, presented for students identified for a career in teaching."
The text continues, "After Georgetown, Bruce Stinebrickner earned a Ph.D. at Yale and has taught at the university level for more than three decades and on four different continents. He is the longtime editor of one of the most widely used college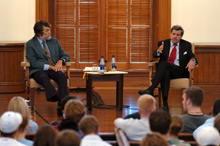 textbooks on American government, and is currently the chairman of the government department at DePauw University. In a note to his athletic skills, his DePauw bio reads that 'He has played organized basketball on four continents and coached at middle school, high school, and semi-professional levels. He... continues to play regularly himself, holding his own, he claims, against players half (and even one-third) his age.'" (at left: Stinebrickner with L. Paul Bremer, September 16, 2004)
Read more about Dr. Stinebrickner at Georgetown's site. Details on the Hoya Hoops 100 celebration can be found here.
Back