Movie Actress Rae Dawn Chong Coming to DePauw to Star in Rhythms and Work With Students
February 26, 2007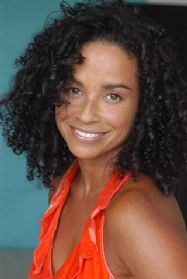 February 26, 2007, Greencastle, Ind. - Hollywood actress Rae Dawn Chong will come to Indianapolis and DePauw University to star in Rhythms -- a play written and directed by Chris White, assistant professor of English at DePauw, and produced by Tim Good, associate professor of communication and theatre at the University. Through a professional development grant from the Andrew W. Mellon Foundation, the play will be staged at the Phoenix Theatre in Indianapolis April 12-15, then come to DePauw for two performances, April 17 & 18.
Indianapolis showtimes are Thursday at 7 p.m., Friday and Saturday at 8 p.m., and a Sunday matinee at 2 p.m. You can see Rhythms at Kerr Theatre of DePauw's Performing Arts Center at 7:30 p.m. the following Tuesday and Wednesday.
The play follows seven disparate women in a rural county in Virginia, revealing the shared nature of the cyclical feminine through stories of birth, loss, food, sex, music, work, the natural world, and death. Rhythms received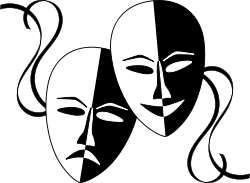 the 1995 Helen Hayes Award for Outstanding New Play (the Charles MacArthur Award).
Calling Rhythms a "must see," Bennah Serfaty of Virginia's Alexandria Post-Gazette called the play, "Powerfully well written, biting, emotional." The Washington Post's Lloyd Rose wrote, "Playwright Chris White has a dry, satirical sense and her sketches of the characters are incisive little portraits. None of these women has a story that is quite what you expect. White is an inventive writer who keeps throwing little surprises at you."
Besides Rae Dawn Chong (seen at top of story), who has appeared in films including The Color Purple, Quest for Fire and The Visit, the cast of Rhythms includes acclaimed New York theatrical actor Nicole Halmos (pictured
below left), DePauw faculty members Gigi Jennewein Fenlon and Amy Hayes, Indianapolis actor Dena Toler, and DePauw students Megan Storti and Ashley Baxstrom. DePauw professor of music, Eric Edberg, will compose music for live performance in the piece, while DePauw dance instructor, Deb Grammel, will provide choreography.
Chong and Halmos will both be available for class visits during their residence at DePauw from April 2-24. You're also invited to attend Nicole Halmos' audition workshop on Tuesday, April 3, at noon. Rae Dawn Chong will hold a workshop on acting in film, Thursday, April 12, at noon.
On April 9 at 7:30 p.m., Quest for Fire will be screened at Watson Forum of the Pulliam Center for Contemporary Media, and Chong will be on hand after the film for a question-and-answer session.
Chris White received a BA in theatre from the University of Colorado in Boulder, additional training at the Lee Strasberg Theatre Institute in Los Angeles, and earned an MFA in dramatic writing from New York University's Tisch School of the Arts. Her plays have been produced at 13th Street Repertory, 18th Street Playhouse, Manhattan Theatre Source, and the Goldman Theatre in New York City; Horizons Theatre and New Works Theatre in Washington, D.C.; at Ki Theatre in Washington, Virginia; and at DePauw, Hollins, Ball State and New York Universities. Her play, Sin Eater, earned honorable mention in the American College Theatre Festival, while another play, Thespian, was a finalist for the Heideman Award at Actors Theatre of Louisville and chosen for the 2001 Ten-minute Play Festival at New York University. Her most recent work, Two Character Play, commissioned by Michael O'Hara of Ball State University, will be published (and was filmed for inclusion) in an introduction to theatre interactive textbook to be published by Allyn and Bacon in 2008.
Contact Chris White by sending an e-mail here.
Back