DePauw a "Shining Example for Attracting Women to Computing," Writes Prof. Gloria Townsend
February 2, 2007
February 2, 2007, Greencastle, Ind. - "We have all heard the ominous media warnings of an impending crisis of qualified information technology workers in America," writes Gloria Townsend, professor of computer science at DePauw University, in the latest issue of the Loop. "One sure way to secure a pool of future IT professionals is to recruit more women, a seriously under-represented demographic. This will also help to correct issues of discrimination, and a more diverse workforce offers the disparate ideas and perspectives that ultimately lead to better products."
The professor asserts, "For years DePauw University has served as a shining example for attracting women to computing. DePauw grants greater numbers of undergraduate computing science degrees to women than schools many times our size -- our Class of 2005 contained thirteen female majors... Recruitment and retention does not necessarily require a large commitment of time or money."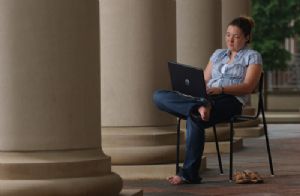 Dr. Townsend's essay in the Addison-Wesley publication offers "DePauw's top ten ways to attract women to computing." Access the list, and the complete text, by clicking here.
Gloria Townsend co-organized the Midwest Celebration of Women in Computing (MidWIC) conference, which DePauw hosted September 29 - 30. Read more in this previous story.
Learn more about Women in Computing at DePauw here.
Back