Washington Post and Chicago Defender Preview Tuesday's Special on Percy Julian '20
February 3, 2007
Visit Special Percy Julian Web Page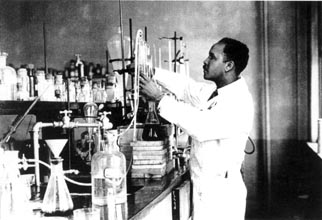 February 3, 2007, Greencastle, Ind. - "If you've ever taken birth control pills or used cortisone to alleviate arthritis pains, you're already familiar with his achievements. But the solutions Percy Julian discovered in the chemistry lab pale in comparison to those he had to devise for survival as a black man living in a segregated society," writes Sara Boyd in the Washington Post. Published in tomorrow's newspaper, the column previews Tuesday's premiere of a two hour NOVA television program on Dr. Julian, a 1920 graduate of DePauw University."
The program, which will air on PBS, "explores the life of a 'Forgotten Genius"'who became a re-nowned research chemist and a lesser known civil rights pioneer," Boyd reports. "The dramatized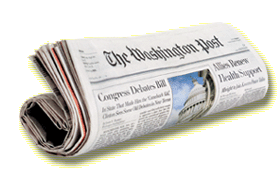 documentary details how the grandson of Alabama slaves transformed himself into a millionaire, and the obstacles he faced along the way -- including threats of arson and firebombs at his home."
The Post states, "Julian taught at Howard University as well as at his undergraduate alma mater, DePauw University, in the 1920s and '30s. But despite his academic credentials, Julian had to fight just to get his foot in the door at most laboratories."
The director of "Forgotten Genius," Llewellyn M. Smith, tells the newspaper of Julian: "In some ways, he is a powerful paradox. He wanted to do something great for his country, but at the same time, it is a country that doesn't recognize him as an equal person... He was struggling to get a Ph.D. at a time when most African-Americans were seen as not in need of this kind of education," Smith adds.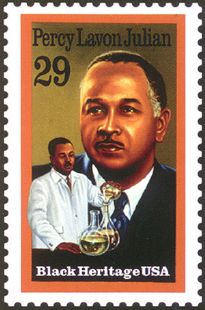 "It's a story of how critical and important an education can be."
Meanwhile, in the Chicago Defender, Ken Parish Perkins refers to Percy Lavon Julian as a "trailblazing scientist who isn't as well known as, say, Jackie Robinson is in baseball, but who achieved a far more impressive array of insurmountable firsts... This is a man who came of age at a volatile time in American history. When Julian was at DePauw University in Indiana, he couldn't sleep in the dorms or eat in the cafeteria like his white classmates. (He eventually got a job cleaning up after his white colleagues at a fraternity house, and they gave him a bed in the basement in return.) Yet Julian finished first in his class. He would eventually become only the second black person to obtain a Ph.D."
Perkins' column, which also previews the NOVA telecast, asserts, "His is a story of overcoming obstacles, and not because he could sink a 10-footer or sing... His family's survival was based on hard work, family pride, love, acceptance, belonging, high moral standards, good parental example, nutrition, discipline, respect for authority, and God-centeredness... Julian would become well-off, but he still felt part of a race of people broken down by the lingering effects of racism, poverty and class.
'Forgotten Genius' reminds us of what we can be, despite those odds."
Access the Washington Post column here, and the Chicago Defender essay by clicking here.
On January 30, the United States House of Representatives passed a resolution honoring the life of Percy Lavon Julian. A Chicago Tribune op-ed this week discussed Dr. Julian's pioneering work.
To view an extended clip of the PBS program and to learn more about the program and Percy Julian's DePauw experiences through text, photos, audio and video, visit this special Web page.
Back