Story on U of Arkansas' Sign Policy Quotes Prof. Jeff McCall '76
February 3, 2007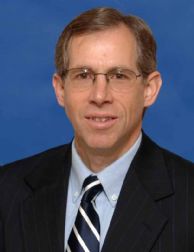 February 3, 2007, Greencastle, Ind. - "The university has the right to limit what messages are expressed inside its building, even though it's a public institution, because a basketball game is not considered a public forum for free speech purposes, said Jeff McCall, a DePauw University media studies professor," notes the Arkansas Democrat-Gazette. Dr. McCall is quoted in a story dealing with the University of Arkansas' policy regarding signs that fans bring to athletic events.
The policy states: "All signs, banners and flags must have prior approval" by the school's athletic department. A fan who was denied entry to a recent game because of her sign is protesting.
"McCall, who teaches courses that deal with First Amendment issues and communication law, said a basketball game is a university-controlled event and requires paid access," the Democrat-Gazette's Scott Cain writes.
Professor McCall, a 1976 graduate of DePauw, tells the newspaper, "Now whether it's a good idea to [confiscate disparaging signs] and complicate the public
relations and image of the university in a way they don't want, is another issue." Cain adds, "The university does have a responsibility to maintain safety and an atmosphere that allows fans to enjoy the game, McCall said."
Read the article in its entirety by clicking here.
A professor of communication at DePauw, Jeffrey M. McCall has had a busy week. He was quoted in a Super Bowl-related Miami Herald story on football "binging," appeared on Bill O'Reilly's nationally syndicated radio program and had an op-ed on satellite radio published in the Indianapolis Star.
Source: Arkansas Democrat-Gazette
Back