Almost 4,000 Apply to DePauw as Admission Season Winds Down
February 5, 2007
February 5, 2007, Greencastle, Ind. - DePauw University has received almost four thousand applications for admission for the Fall of 2007, and the vice president for admission and financial aid says the incoming class is shaping up to be another strong one. "Although the deadline date for applying is February 1, as happens each year there's a stack of additional applications coming in the daily mail," reports Stefanie Niles. "DePauw continues to be a top choice of some of the nation's finest scholars."
As of February 2, the University had received 3,994 applications. While that number is short of the total received by the same date in 2006 -- a year in which DePauw set new admission records -- it is a better than 10% increase over the 3,606 applications received by February 4, 2005.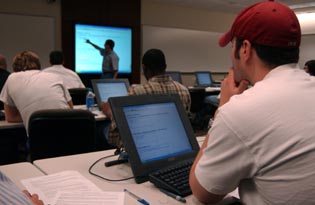 The 2007 admission season finds applications to the DePauw School of Music running 4% ahead of last year's pace. The number of admitted students who have paid a deposit toward tuition has increased 22%.
DePauw hopes to enroll a total incoming class of approximately 655 students.
"The applications we're receiving are from students who have performed well academically but also -- as is so often true of people who are attracted to DePauw -- young people who have been involved in extracurricular programs at school and service to their communities," says Niles. "Students who learn about DePauw and then visit the campus come away with the realization that in small classes taught by dedicated faculty members, not to mention an environment in which there are countless opportunities to participate and lead, they can have a four year experience that will enrich and inform
the rest of their lives. What DePauw offers is unique, and it is most certainly in demand." (at left: DePauw students meet with U.S. Education Secretary Margaret Spellings, who spoke at DePauw Discourse October 26)
The 2006 National Survey of Student Engagement (NSSE), released in November, found that the experiences of students at DePauw are significantly more challenging, stimulating, interactive and dynamic than those provided at peer institutions and the national average of all colleges and universities. The University performs especially well in the areas of level of academic challenge, active and collaborative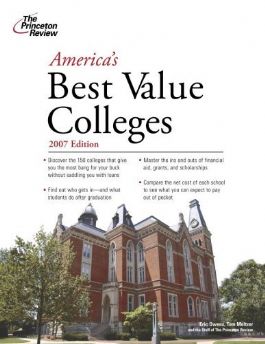 learning, student-faculty interaction, enriching educational experiences.
A number of other national surveys and publications have also given DePauw's academic programs and campus environment high marks. The 2007 edition of U.S. News & World Report's "America's Best Colleges" lists DePauw University in the top tier of national liberal arts colleges for a seventh consecutive year. "DePauw is a midwestern match for many more expensive, small, private East Coast Colleges," asserts Barron's Best Buys in College Education. DePauw is again among the The Best 361 Colleges in the 2007 guide, and historic East College is pictured on the cover of America's Best Value Colleges: 2007 Edition, which lists DePauw as one of 150 colleges offering excellent academics, generous financial aid packages and relatively low costs.
Prospective students who would like more information on DePauw University, including access to an online application form, can click here.
Back