Sun-Times Features Onetime 'Chicagoan of the Year,' Percy Lavon Julian '20
February 5, 2007
Visit Special Percy Julian Web Page; NOVA 'Forgotten Genius' Airs Tuesday, February 6, at 8 p.m. EST
February 5, 2007, Greencastle, Ind. - The business section of today's Chicago Sun-Times includes a feature on "Percy L. Julian, a Chicago scientist and grandson of an Alabama slave, who overcame racial prejudice and other hurdles to change the world." Howard Wolinsky previews tomorrow night's national television premiere of a two hour NOVA program that tells the pioneering chemist's "story with documentary footage and re-enactments of Julian's life as he moved from Alabama to earn his bachelor's in chemistry from DePauw University in Greencastle, Ind., in 1920. Then, he faced an uphill struggle to earn advanced degrees. The white men's club in chemistry felt the education would be wasted on him because Julian wouldn't be allowed to teach white students and couldn't find any other job in chemistry."
Instead, as history shows, "Julian was the first researcher to synthesize the anti-glaucoma drug physostigmine, showing how chemicals from plants could be mass-produced. The American Chemical Society in 1999 declared this one of the top 25 achievements in American chemistry." He also "developed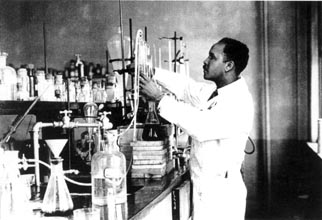 technology in the 1940s and 1950s to convert soybeans into synthetic steroids on an industrial scale. This research led to reasonably priced medications that helped relieve arthritis pain, prevented miscarriage and helped alleviate other conditions affecting millions," the newspaper points out.
Wolinsky writes, "Readers of the late Sun-Times columnist Irv Kupcinet voted Julian 'Chicagoan of the Year' in 1950 for his discoveries that led to arthritis treatments. Kup wrote: 'I've heard people remark that Dr. Julian is a credit to his race. I'd like to correct that statement. He's a credit to the HUMAN race!'"
The article concludes, "Percy Julian helped knock down barriers faced by blacks in America, and hired many talented African-American scientists who couldn't otherwise find work in their field. He helped open doors for others. What could he have accomplished if he hadn't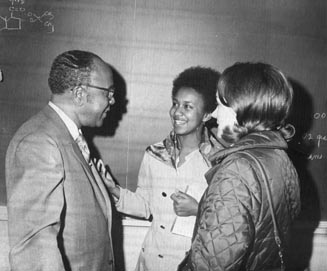 had to knock down so many barriers?... The PBS program is a step toward ensuring that Julian's accomplishments are not forgotten."
Read the complete text, which includes a timeline of Percy Julian's accomplishments, by clicking here.
The NOVA program "Forgotten Genius" -- which airs at 8 p.m. Tuesday night -- is also the subject of stories in today's Columbus Dispatch, Fort Worth Star-Telegram and Birmingham News, which reports, "His first big discovery came in 1935, after returning to DePauw as a teacher and researcher. Julian, along with colleague Josef Pikl, synthesized physostigmine, a drug that is still used to treat glaucoma."
There were also writeups in yesterday's San Jose Mercury News and Washington Post. USA Today called the program "inspiring" and a
Chicago Tribune op-ed last week discussed Dr. Julian's pioneering work.
On January 30, the United States House of Representatives passed a resolution honoring the life of Percy Lavon Julian.
Most PBS stations in Indiana will air messages from DePauw before and after the program.
To view an extended clip of "Forgotten Genius" and to learn more about Julian's DePauw experiences through text, photos, audio and video, visit this special Web page which has been created to complement the NOVA documentary.
Back